Win 1 of 5 copies of Hannah & Emil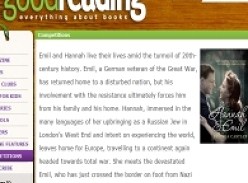 Good Reading Magazine
Added: 02-Aug-12
Closes: 31-Aug-12
To enter, tell us in which part of London Hannah grew up.

Emil and Hannah live their lives amid the turmoil of 20th-century history. Emil, a German veteran of the Great War, has returned home to a disturbed nation, but his involvement with the resistance ultimately forces him from his family and his home. Hannah, immersed in the many languages of her upbringing as a Russian Jew in London's West End and intent on experiencing the world, leaves home for Europe, travelling to a continent again headed towards total war. She meets the devastated Emil, who has just crossed the border on foot from Nazi Germany, leaving tragedy in his wake.

All too briefly, they make a life in England before war starts, and Emil, an enemy alien, is interned and then sent away. Hannah prepares herself for a lonely and dangerous journey across the seas to find him.