Win 1 of 25 VIP Sydney Trips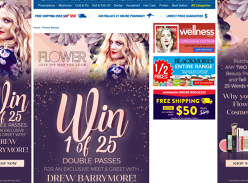 Chemist Warehouse
Added: 12-Mar-19
Closes: 04-Apr-19
Competition entries can be made from 9.00am AEST on Friday 8 March 2019 until 5.00pm AEST on Thursday 4 April 2019 through the Promoter's website: www.chemistwarehouse.com.au/flowerbeauty
Entries received outside the Competition period will not be eligible or accepted.
(a) Entries that are incomplete, illegible or indecipherable will not be valid and will be deemed void.
(b) Entry is conditional upon entrants purchasing any two Flower Beauty products at Chemist Warehouse and telling us in 25 words or less why you love Flower Cosmetics
(c) The Promoter takes no responsibility for entries that are lost, stolen, illegible, misdirected or damaged however caused.
(d) Submitting an entry constitutes acceptance of these terms and conditions.
(e) Multiple entries with separate, valid receipts / proof of purchase ( 2 products per receipt) will be accepted.
3. Who May Enter
(a) The Competition is open to Australian permanent residents over 18 years of age.
(b) The Competition is not open to:
(i) Employees of the Promoter;
(ii) Parties to whom the Promoter has contracted work in relation to this Competition;
(iii) Parties who are otherwise directly involved with this Competition; and
(iv) Any immediate family members or any of the abovementioned parties.
4. Prize
(a) The prize is win 1 of 25 double passes for an exclusive meet & greet with Drew Barrymore on Saturday 13th April 2019 in Sydney with an individual, plus signed autograph and flights and accommodation for winners who reside outside of NSW, with a maximum prize value of $2,000 AUD per prize.
(b) Return flights to a maximum value of $750 AUD and 1 nights twin-share accommodation to a maximum value of $250 will be awarded to winners who reside outside of NSW.
(c) Overall maximum retail value of the competition is $50,000 AUD.
(d) The prize does not include any airport transfers or cab fares.
(a) All other living costs including meals and transport are at the winner's personal expense.
(e) The prize awarded by the Promoter is non-transferable and cannot be exchanged for any valuable consideration, in particular for money. Any attempt to sell the prize or attempt to exchange the prize for valuable consideration, will result in the cancellation of the prize. The Promoter has the sole and absolute discretion to decide such matters.