Win 1 of 3 $15,000 QANTAS Holiday vouchers!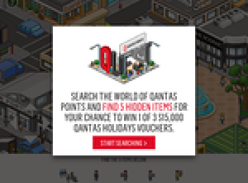 QANTAS
Added: 20-Aug-14
Closes: 14-Sep-14
PROMOTIONAL PERIOD:

The promotion commences at 12.01am (AEST) on Monday 18 August 2014 and closes at 11.59pm (AEST) on Sunday 14 September 2014 (Promotion Period).

WHO CAN ENTER:

Entry into the promotion is open only to Australian residents who are 18 years of age or over and who successfully complete the tasks set in the game as out in clause 5 during the Promotional Period (Eligible Entrants) but excluding:

(a) directors, management, agents, employees (and their immediate families) of the Promoter, Mike Da Silva and Associates (Aust) Pty Ltd ABN 50 003 894 022 (MDSA), Razorfish Australia Pty Ltd ABN 14 091 733 149 or Droga5 Australia Pty Ltd ABN 55 128 231 096 and each of their related bodies corporate; and
(b) registered travel companions of employees of the Promoter and its related bodies corporate.

HOW TO ENTER:

Eligible Entrants receive one entry into the draw each time, during the Promotion Period, they visit www.qantaspointsquest.com and
a) find the 5 items that earn Qantas Points in the game 'Quest for Points'
b) Provide all the required contact details in the entry form; and
c) Accept the competition terms and conditions


PRIZES:

There will be three (3) prizes in total. The maximum retail value of each Prize is AU$15,000 (including GST). The maximum total prize pool value is AU$45,000 based on the recommended retail value at the time of printing. The promoter accepts no responsibility for any variation in the value of the prizes. Each prize will be an AU$15,000 Qantas Holiday Voucher (Prize).