Win 1 of 3 family cruises!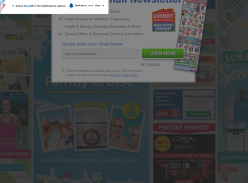 Chemist Warehouse
Added: 28-Jan-20
Closes: 23-Mar-20
1. Information on how to enter and the prizes form part of these Terms and Conditions. Participation in this promotion is deemed acceptance of these Terms and Conditions.



2. Entry is only open to residents of Australia aged 18 years or over.



3. Employees (and their immediate families) of the Promoter, Participating Retailers (as defined below) and agencies associated with this promotion, are ineligible to enter. Immediate family means any of the following: spouse, ex-spouse, de-facto spouse, child or step-child (whether natural or by adoption), parent, step-parent, grandparent, step-grandparent, uncle, aunt, niece, nephew, brother, sister, step-brother, step-sister or 1st cousin.



ENTRY



4. The promotion commences at 08:00 am AEDT on 20/01/2020 and ends at 5pm AEDT on 23/03/2020 ("Promotional Period").



5. To be eligible to enter, individuals must purchase any one (1) Hamilton sunscreen or skin range product from a Participating Retailer during the Promotional Period ("Eligible Purchase"). A participating retailer is any Chemist Warehouse or My Chemist retailer in Australia ("Participating Retailer").



6. To enter, individuals must then visit www.chemistwarehouse.com.au/hamiltoncompetition, follow the prompts to the promotion entry page and input the requested details, including but not limited to full name, a current valid email address, phone number and State/Territory of residence. Individuals must then, when prompted, upload a scanned copy of their purchase receipt and submit the fully completed entry form during the Promotional Period.



7. Incomplete or indecipherable entries will be deemed invalid. Any incorrect details submitted may render the corresponding entry invalid.



8. All entries are deemed to be received at the time of receipt into the promotion database and not at the time of transmission by the entrant.



9. Multiple entries are permitted, subject to the following:



(a) purchases are made during the Promotional Period;

(b) only one (1) entry is permitted per Eligible Purchase (regardless of the number of products purchased in excess of one (1) in the same transaction);

(c) each entry must be submitted separately and in accordance with

entry requirements; and

(d) a maximum of one (1) entry is permitted per person per day.



10. The Promoter reserves the right, at any time, to verify the validity of entries and entrants (including an entrant's identity, age and place of residence) and to disqualify any entrant who submits an entry that is not in accordance with these terms and conditions or who tampers with the entry process. Errors and omissions may be accepted at the Promoter's discretion. Failure by the Promoter to enforce any of its rights at any stage does not constitute a waiver of those rights. The Promoter's legal rights to recover damages or other compensation from such an offender are reserved.


11. The original receipt of purchase must be kept as proof of purchase to be able to claim a prize. Failure to produce the original receipt when and as requested by the Promoter, may, in the absolute discretion of the Promoter, result in the invalidation of all of an entrant's entries in the promotion, and forfeiture of any right to a prize. The receipt must clearly show the date/time of purchase is prior to the date/time of entry into the promotion.


PRIZE DRAW



12. All entries received during the Promotional Period will be entered into the major prize draw ("Major Prize Draw").



13. The Major Prize Draw will take place at CW Media PTY LTD, 44 Raglan Street, Preston, Melbourne VIC 3072 at 11:00am AEDT on 25/03/2020 in the presence of an independent scrutineer. Winners will be notified via email within two (2) business days of the draw and their names will be published on www.chemistwarehouse.com.au/hamiltoncompetition from 03/04/2020. Additional reserve entries may be drawn and recorded in case an invalid entry or ineligible entrant is drawn.