Win 1 of 31 Accommodation or Experience Prizes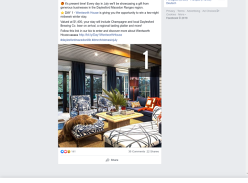 Daylesford and Macedon Tourism
Added: 05-Jul-19
Closes: 06-Aug-19
1. The promoter of this Competition ("Promoter") is Daylesford and Macedon Tourism Inc (ABN 63 924 206 247), located at 120 Main Rd, 3461, Hepburn Springs. (03) 5309 2773.

2. Information on how to enter forms part of these conditions. Participation in the CHRISTMAS IN JULY ("Competition") constitutes acceptance of these Terms and Conditions.

3. Entry is open to Australian citizens. Employees of the Promoter (and their immediate families), or agencies or companies associated with or connected to the provision of the Competition in any way, are ineligible to enter.

4. The Competition commences at 00:00 (AEDST) on 1st July 2019 and closes at 24:00 (AEST) on Wednesday 7th August 2019 ("Competition Period"). Each day, the Competition will comprise of a game of chance and the selection of the Winner will be by random draw by DMT.

5. To enter, participants must:
a. Submit their details via the link provided daily on social media - https://www.facebook.com/DaylesfordMacedonRanges/

b. Register their details including (but not limited to) name, phone number and e-mail address. By providing email details entrants are affording the Promoter, Visit Victoria and their affiliates permission to send updates and information post promotion.

6. Entrants must be 18 years or over.

7. Entries must be received within the Competition Period. Entries are deemed to be received at the time they are received by the Promoter's database. The Promoter accepts no responsibility for any late, lost or misdirected entries due to technical disruptions, network congestion or for any other reason.

8. The cost of accessing the promotional website will be dependent on the entrant's individual Internet Service Provider.

9. The use of any automated entry software or any other mechanical or electronic means that allows an entrant to automatically enter repeatedly is prohibited and will render all entries by that entrant invalid.

10. Incomplete or indecipherable entries will be deemed invalid.

11. All entries will be assessed and selected at 10:00 (AEDST) on 7th August 2019. There will be Winners selected as per the prize details ("The Winner"). The draw will take place at Daylesford Macedon Tourism, 120 Main Rd, Hepburn Springs.

12. The Winners will be notified via email on Wednesday 7th August 2019.

13. The Winner will receive the prize via the prize provider.

14. Prizes for the CHRISTMAS IN JULY will be sent via post or email after the Winner provides their preferred delivery mechanism to Daylesford Macedon Tourism.