Win 1 of 4 $5,000 'OO.COM.AU' gift vouchers!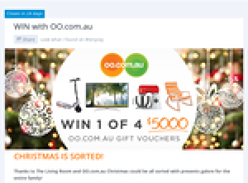 Network TEN
Added: 08-Nov-14
Closes: 02-Dec-14
WHO CAN ENTER?

Entry is open to all residents of Australia. However, employees and their immediate families of Network TEN, WTFN Entertainment Pty Ltd, Grays Online, OO.com.au and their associated agencies and companies are not eligible to enter.

PROMOTIONAL PERIOD:

The competition commences on Friday 7th November 2014 at 15:00 pm (AEDT) and concludes on Tuesday 2nd December, 2014 at 10:00 am (AEDT).

HOW TO ENTER:

To enter, participants must:
a) Sign up to www.tenplay.com.au, register their details (ref Clause 7) or sign in as an existing Member;
b) Go to the competition entry page and click on Enter Now where an entry form will surface for signed in Members;
c) Navigate to the OO.com.au website and select a "product" they would like. Copy the URL of that "product" and return to the entry form;
d) Paste the "product" URL selected from the OO.com.au website and paste it into the form;
e) Submit their answer to a question in 25 words or less. The question is "Tell us why you would love this item for Christmas?"

To enter online, participants must log onto tenplay.com.au or one of Ten's associated websites and register their details including (but not limited to) name, address, phone number, e-mail address, date of birth and interest. Entrants must register to become a member of TENPlay via the Ten, or any of its affiliated, websites. It is free to become a member, however, the cost of accessing the promotional website is dependent on the entrant's individual service provider. These Terms and Conditions apply in conjunction with the TENPlay Members rules.

PRIZES:

Four (4) major prize winners will receive a OO.com.au $5,000 Gift Voucher (incl gst).
- The Gift Voucher must be redeemed within 12 months of the competition judging date. Any unused portion of the Gift Voucher outstanding 12 months after the judging date will be forfeited and all credits will be cancelled. The Gift Voucher can be used for purchases on the OO.com.au website and is subject to OO.com.au's own terms and conditions of use.

Total prize pool is valued at up to $20,000.00 (including GST). The prize cannot be transferred or redeemed for cash.