Win 1 of 4 trips to Bali!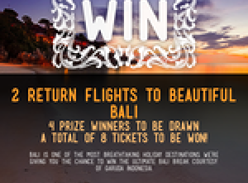 Webjet
Added: 20-Nov-13
Closes: 08-Dec-13
How to enter:

To be in the running to win one (1) of four (4) prizes consisting of two (2) return economy tickets to Denpasar, Bali with Garuda Indonesia, please read the following:

Entry into the competition can be made via the following method on www.webjet.com.au/win/garudaindonesia:

Enter your details (name, email, phone, date of birth & state) online and refer at least one other person with a valid email address or share the competition on Facebook or Twitter by following the prompts on the competition page to go in the draw. You must make sure you have consent of your friends to send the referral email. Each additional email referral earns you a bonus entry into the prize draw, for example, if you refer 11 friends about the competition via email using the form at www.webjet.com.au/win/garudaindonesia then you will receive 11 entries into the competition, refer 20 via email and you gain 20 entries etc. Sharing the competition via Facebook or Twitter also earns participants an additional entry.