Win 1 of 5 $2,000 Travel Vouchers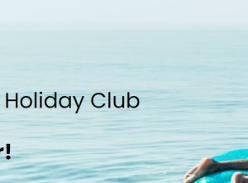 Yonda Holiday Group
Added: 02-Mar-21
Closes: 30-Jun-21
1. WHO CAN ENTER?
1.1 Entry is open to all individuals that sign up to a Yonda Holiday Group subscription.
2. HOW TO ENTER
2.1 The competition commences on Wednesday 24th February 2021 at 10:00am AEST and
concludes on Wednesday 30th June 2021 at 5:00pm AEST.
2.2 To enter, eligible entrants must sign up to a Yonda subscription during the competition
time frame and tell us in 25 words or less where you would travel to if you won $2K
worth of travel dollars. All Entrants must choose to be a Go, Premium or Ultra
subscriber and complete the required details on the subscription form, in accordance
with any instructions on the website.
2.3 All entrants must be a Yonda subscriber at the time of the draw.
2.4 Eligible entrants (including winners) can enter the competition by subscribing once only
per person.
2.5 All entries must be received by Wednesday 30th June 5:00pm AEST.
2.6 All entrants must be over the age of 18 years old.
2.7 Anyone over the age of 18 is able to enter the competition except the employees of
Yonda Holiday Group and their family members or anyone else connected in any way to
the competition.
2.8 All entrants must be a resident of Australia.
3. PRIZES
3.1 There will be five (5) prizes drawn and five (5) winners. Each winner will receive the
prize package as set out below.
3.2 The prize consists of:
Quantity Details Valued at
1 $2000 Travel Voucher to be used at
Yonda Holiday Group
$2000
Total prize value is $10,000
3.3 Travel voucher to be redeemed through the winners Yonda subscription. Voucher must
be redeemed by Thursday 30th June 2022 but is valid for travel beyond this date.
Winner can choose to use voucher on one or multiple trips. Voucher can only be
obtained through Yonda Holiday Group.
3.4 Voucher can be used on any travel service Yonda Holiday Group offers including
accommodation, car hire and cruises subject to availability.
YONDA Holiday Group
1-7, 2563 Gold Coast Highway, Mermaid Beach QLD 4218
Phone: (Free call) 1800 096 632
ABN: 24 635 777 454 ACN: 635 777 454
3.5 Each winner is not required to be present at the time of the draw. The total amount of
the voucher will be loaded onto their profile which they will gain access to through their
Yonda profile.
4. HOW TO WIN
4.1 There will be five (5) winners' chosen from the total pool of entries received, chosen on
Thursday 1st July 2021 at 10:00am AEST. The draw will take place at 1-7, 2563 Gold
Coast Highway, Mermaid Beach QLD 4218
4.2 All winners will be selected by the CEO, COO and General Manager of Yonda by the
answer entrants have submitted.
4.3 Each entrant who has entered over the duration of the competition and registered all
details required ("Qualifying Entrant") will be eligible. The winner will be chosen subject
to the criteria set out in clause 2.2.
4.4 Each winner will be notified via the Yonda Holiday Club Facebook page and their email
on Thursday 1st July 2021. The winner's names will be published across all Yonda
Holiday Club social media platforms on Thursday 1st July 2021.
4.5 The Promoters decision in respect of all matters to do with the competition will be final
and no correspondence will be entered into.
4.6 Each winner will have 3 months from the draw date (Friday 1st October 2021) to claim
their prize. If prizes remain unclaimed after that date Yonda Holiday Group reserves the
right to redraw the unclaimed prize and any previous winners will give up all claims to
the prize.
5. GENERAL TERMS
5.1 By entering this competition, entrants are indicating his/ her acceptance and agreement
to these terms and conditions.
5.2 In participating in the prize, the winner agrees to participate and co-operate as required
in all editorial activities relating to the competition.
5.3 The Promoter reserves the right to cancel or amend the competition and these terms
and conditions without notice in the event of a catastrophe, war, civil or military
disturbance, act of God or any actual or anticipated breach of any applicable law or
regulation or any other event outside of the Promoter's control. Any changes to the
competition will be notified to entrants as soon as possible by the Promoter
5.4 This promotion is in no way sponsored, endorsed or administered by, or associated
with, Facebook, Twitter or any other Social Network. You are providing your
information to the Promoter and not to any other party.