Win 100K in Travel Money with Choice Hotels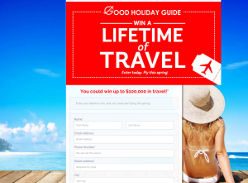 Choice Hotels
Added: 11-Aug-16
Closes: 31-Aug-16
Entry is only open to Australian residents aged 18 years or older
Employees (and their immediate families) of the Promoter, resellers of the Promoter's products and agencies associated with this promotion are ineligible to enter. Resellers means any organization or person, and their employees, who purchase the Promoter's products in commercial quantities. Immediate family means any of the following: spouse, ex-spouse, defacto spouse, child or step child (whether natural or by adoption), parent, step parent, grandparent, step grandparent, uncle, aunt, niece, nephew, brother, sister, step brother, step sister or 1st cousin.
This promotion commences at 12.01am AEST on 08/07/16 (Opening Time) and ends at 11:59pm AEST on 31/08/16 (Closing Time). This period of time between the Opening Time and the Closing Time is referred to in these terms as the Promotional Period.