Win 12 Months' Supply of CAPI Sparkling Water & Pod & Parcel Coffee Pods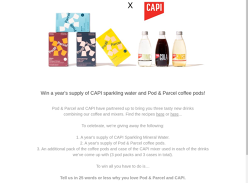 CAPI
Added: 26-Jan-20
Closes: 18-Feb-20
To win all you have to do is…

Tell us in 25 words or less why you love Pod & Parcel and CAPI.

Entries are open from Wed 22nd Jan to Wed 19th Feb at midnight. Winner will be drawn on Thurs 20th Feb. Winner must have an Australian postal address. A year's supply equates to 1 x case of 500ml Sparkling Mineral Water (12 bottles) and 4 x coffee pod packs of your choice monthly. One email address per entry. Entry is not valid for any family members or employees of CAPI or Pod & Parcel. Entering your email adds you to Pod & Parcel and CAPI's mailing lists (easily unsubscribe at any time). Responses may be used anonymously on Pod & Parcel and CAPI's websites and social media.