Win $2,000 Cash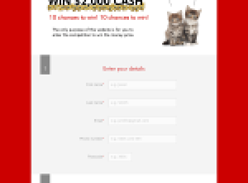 AAMI
Added: 26-Nov-15
Closes: 18-Dec-15
This competition ("Competition") is conducted by AAI Limited (ABN 48 005 297 807) trading as AAMI ("Promoter") of Level 28, 266 George Street, Brisbane, Queensland 4000. Please address all postal correspondence in relation to this Competition marked attention to AAMI Marketing Team, PO Box 14180, Melbourne City Mail Centre, Victoria 8001, telephone: 13 22 44
All entry instructions and prize information published by the Promoter forms part of these conditions. By entering into this Competition, entrants accept these conditions.
The Competition is only open to individuals who: (i) are Australian residents aged 18 years or older at time of entry; and (ii) are not directors, management or employees, or their immediate family members, of the Promoter or its related companies or agencies associated with the Competition ("Eligible Entrant").
Competition entry commences at 9:00am on 09/11/2015 and closes at 11:59.59pm on 18/12/2015 ("Entry Period"). Except as otherwise stated, all times are Melbourne time.