Win 20,000 Qantas Points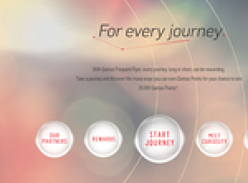 Qantas
Added: 15-May-14
Closes: 30-Jun-14
With Qantas Frequent Flyer, every journey, long or short, can be rewarding.
Take a journey and discover the many ways you can earn Qantas Points for your chance to win 20,000 Qantas Points*.

This information should be used as a guide only. Actual points earned by a member will depend on the goods and services acquired by the member and the points earning rates applicable to each Qantas Frequent Flyer program partner and those goods and services. Points earning rates are subject to change. The Qantas Frequent Flyer program terms and conditions available at qantas.com/terms apply to the earning of points. Fees, charges and other terms and conditions may apply to particular program partners. For full details of the program, including points earning rates applicable to each program partner, go to qantas.com/frequentflyer. You must be a member of the Qantas Frequent Flyer program to earn points. A joining fee may apply.