Win $5,000 toward your choice of any 2022 or 2023 Norwegian Cruise Line package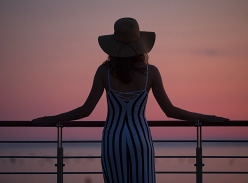 My Cruises and Cruise Passenger
Added: 23-Aug-21
Closes: 14-Oct-21
Entry is open to Australian Residents over the age of 18
Employees, immediate family members of employees, employees of any company associated with the Promotion are ineligible to enter.
The promotion commences at August 13, 2021 and closes at 11:45PM AEST October 14, 2020. One (1) entry will be selected from all entries on October 18, 2021 at 11am at Suite 206/46a MacLeay St, Elizabeth Bay NSW 2011.
The prize is non-negotiable, and may not be replaced or refunded.
The winner will be published on October 22, 2021 or thereafter at facebook.com/cruisepassenger
Prize-winner will be notified by Cruise Passenger by October 19, 2021. The winner will be contacted by email.
To enter, Eligible Entrants must fill in their first name, email address, and answer one multiple choice question on the competition landing page.
Total prize pool value is up to $5000 as of August 13, 2021:
– Choose any NCL cruise package from My Cruises with a 2022 itinerary
– Book and redeem by December 22, 2021
– Complete the sailing by December 31, 2023
Prize cannot be transferred, exchanged or redeemed for cash or any other travel services
Black-out dates may apply including school holidays
There is no refund if prize winner chooses not to travel.
Flights, including international flights from Australia, beverages, transfers and anything not listed in the inclusions are not included.
The following are not included as part of the major prize holiday unless stated in the published NCL cruise package: all other out of pocket expenses including airline tickets, airport transfers, meals, beverages, laundry services, spending money, transfers, additional accommodation due to flight schedules, optional excursions, tipping, passports, visas, travel insurance and all other ancillary costs not expressly provided. The costs of obtaining any of these requirements are the responsibility of the prize winner and their travel companion. All taxes payable, airline and government are the responsibility of the prize winner.
Valid passport and travel insurance required for embarkation.
By entering the competition, you acknowledge that entry details will be used for the purposes of the competition and may also be used for further My Cruises/Norwegian Cruise Line marketing activities from which you can unsubscribe at any time. Any information you provide will not be used for other commercial purposes and will not be sold, rented, leased or forwarded to any third party.
All entrants agree that if they win the prize, they will not, and their companions will not, sell or otherwise provide their story and/or photographs to any media or other organisation, including the internet. Photographs will be allowed only at the discretion of the Promoter.
The winner acknowledges and accepts that activities that form part of the prize are inherently dangerous and may result in death, injury, incapacity, damage to property or other losses. The Promoter is not responsible for any acts of god, such as adverse weather conditions or industrial action or civil commotion that may take place. The winner must make his or her own enquiries about local issues and conditions at destinations prior to travel.
The winner/s (and their companion) is/are responsible for all other expenses including spending money, meals (unless specified), drinks, transfers (unless specified), laundry charges, activities (unless specified), incidentals, taxes (excluding departure and any other flight associated taxes included within the prize), energy surcharges, gratuities, services charges, passports, visas, travel insurance and all other ancillary costs. Travel insurance is highly recommended to protect against the additional costs incurred in the event of unforeseen circumstances. The winner is responsible for ensuring that they and their travelling companion(s) are fit to travel and have received appropriate immunisations and/or health checks prior to taking the prize.
The winner and his or her travel companion are responsible for complying with health and any other government requirements that may apply to the prize. All prize travel will be subject to the carrier's General Conditions of Carriage. It is the traveller's personal responsibility to ensure that they have valid travel documentation, including valid passports and visas, which meet the requirements of government authorities at the relevant destinations. Any fines, penalties, payments or expenditures incurred as a result of such documents not meeting the requirements of those authorities will be the sole responsibility of the traveller/s. The Promoter makes no representation as to the safety, conditions or other issues that may exist at any destination. Entrants should obtain travel advice from independent sources, such as the web site of the Australian Department of Foreign Affairs and Trade.
The winner/s must claim the prize within 3 days of being notified by replying to the notification email or confirming via phone to ensure that the prize is taken during the travel dates. A redraw will take place on October 21, 2021 at 11am at Suite 206/46a MacLeay St, Elizabeth Bay NSW 2011. If a winner is drawn they will be contacted in writing within two (2) business days and will have their name published at facebook.com/cruisepassenger.
The value of this prize and inclusions are correct at time of printing and subject to change at any time. Any change to the prize between the publishing date and the date the prize is claimed is not the responsibility of the promoter(s).
As a condition of entry, entrants must agree to receive mail and/or email newsletters/ brochures from American Queen Steamboat Company and Cruise Passenger.
This promotion does not involve a round in which players are eliminated. To the extent permitted by law, the Promoter is not responsible or liable for:
(i) inaccurate / incorrect transcription of entry information;
(ii) purported entries that are not received for any reason, including because they are lost, misdirected or stolen, or that are received, but are late, illegible, incomplete, or sent other than as directed in the entry instructions;
(iii) any problems or technical failures of any kind, including malfunction of any telephone network or lines, computer online systems or network, servers or providers, computer equipment, or software;
(iv) the unavailability or inaccessibility of any service whether or not caused by traffic congestion on the Internet or at any Website;
(v) unauthorised human intervention in any part of the competition;
(ii) (vi) electronic or human error which may occur in the administration of the competition;
(vii) any loss suffered or sustained, to person or property and including, but not limited to, consequential (including economic) loss by reason of any act or omission, deliberate or negligent, by the Promoter, or its servants or agents, in connection with the arrangement for supply, or the supply, of any goods or services by any person to a prize winner and, where applicable, to any family/persons accompanying a winner; or
(viii) any injury or damage to persons or property, including to the participant's or any other person's computer related to, or resulting from, participation or downloading any materials in this competition;
(ix) In the case of the intervention of any outside act, agent or event which prevents or significantly hinders the Promoter's ability to proceed with the competition on the dates and in the manner described in these terms and conditions, including but not limited to vandalism, power failures, tempests, natural disasters, acts of God, civil unrest, strike, war, act of terrorism, the Promoter may in its absolute discretion cancel the competition and recommence it from the start on the same conditions.