Win 5 Nights All-Inclusive at The Berkeley River Lodge in The Kimberleys for 2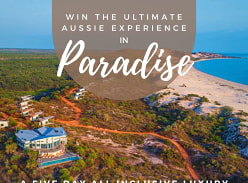 Traveldream
Added: 22-Feb-22
Closes: 24-Apr-22
General

1. Information on how to enter and prizes form part of the Terms and Conditions of Entry. Entry into this competition is considered acceptance of these Terms and Conditions.

2. To the extent of any inconsistency between these Terms and Conditions and any other reference to this competition, these Terms and Conditions prevail.


Who can enter

3. Entry is open to VIC, NSW, QLD, WA, SA, TAS and NT residents of Australia who have fulfilled the eligibility requirements set out below. Entrants must be over the age of 18, as at the date of entry.

4. Employees and their immediate families of the Promoter, associated companies and agencies, contractors or individuals are not eligible to enter this competition. Immediate family covers any of the following: spouse, ex-spouse, de facto spouse, child or step-child (whether natural or by adoption), parent, step parent, grandparent, step grandparent, uncle, aunt, niece, nephew, brother, sister, step brother, step sister or 1st cousin.

5. The Promoter is Traveldream (66610582922). The Promoter's address is 10 Claremont St, South Yarra, VIC 3141.


How to enter

6. To enter the competition, eligible entrants must, during the Promotional Period (stated below) submit their entry by clicking on the link and filling out the entry form on the competition page. https://traveldream.lpages.co/travel-is-back-giveaway/

7. The competition is based on a game of skill. Entrants will be assessed on the creativity and uniqueness of response to the question 'What's at the top of your Aussie bucket list?'.

8. By submitting an entry into this competition, entrants consent to receiving promotional and other marketing communications from the Promoter (including messages sent electronically for an unlimited period of time). Entrants will be able to opt-out at any time by following the instructions included in each message sent by the promoter.

9. Entrants must provide contact details on request to be eligible to win. Entrants may only enter their own name. Incomprehensible, illegible and incomplete entries may be deemed invalid.


Number of entries permitted

10. Only one entry per person will be permitted. Entrants found to be submitting multiple entries may have all entries invalidated.


Open, Close, Draw and Publish dates

11. The competition commences on 14/02/2022 at 12:00 (AEST) and closes on 24/04/2022 at 23:00 (AEST) (Promotional Period). The end date is extendable at the discretion of the promoter. All times notes in these Terms and Conditions are local times, based on the location of the Promoter. If any draw date falls on a public holiday, as defined in the state of the Promoter, that draw will be conducted on the next business day. Entries must be received by the Promoter prior to the competition close date and time.

12. The winner will be the entrant who submits the most creative and unique response to the question 'What is your ultimate Travel Dream?'.

13. The winner will be drawn at the Promoter's Premises at 10 Claremont St, South Yarra, VIC 3141 on 25/04/2022 at 10:00 AM.

14. The winner will be notified by email within three business days of the draw. Their name will also be published on 08/07/2021 at traveldream.com.au for 28 days, on Traveldream's (www.facebook.com/traveldreamau) Facebook Timeline and on Traveldream's (www.instagram.com/traveldream) Instagram page.

Prize on offer

15. The total prize is valued at up to $7337, as at 14/02/2022.

16. The total number of competition winners in this competition is one. One winner will be selected per prize offering including:

Prize description

5 Nights all-inclusive at the Berkeley River Lodge for two.

Note: Prize must be claimed within 7 days of notification from the Promoter that they have won and travel dates supplied within 2 weeks of claiming prize. The prize is valid for travel on selected dates in 2023.

17. Unless expressly stated in these Terms and Conditions, all other expenses are the responsibility of the winners (and their companions) including but not limited to breakfast, flights, meals, spending money, transport to and from departure and arrival points, transfers, drinks, incidentals, min-bar, laundry, room service, telephone calls, activities, gratuities, service charges, excursions and all other ancillary costs. A credit card imprint or cash deposit may be required from the winner at check-in to the hotel, for all incidental charges. Holidays are subject to booking availabilities.

18. By entering this competition, and by collecting a prize, the winner acknowledges and accepts that driving, travel and any other activities comprising the prize are inherently dangerous and may result in death, injury, incapacity, damage to property or other losses. The Promoter is not responsible for any acts of god, such as adverse weather conditions or industrial action or civil commotion at destination prior to travel. Winner will be required to sign indemnity as a condition of acceptance of Prize. The Promoter does not guarantee that the winner will enjoy the travel prize or be suited to the type of travel prize that is offered.

19. In the event that for any reason whatsoever a winner does not take an element of the prize at the time stipulated by the Promoter then that element of the prize will be forfeited by the winner and cash will not be awarded in lieu of that element of the prize.