Win $500 toward a trip to Tasmania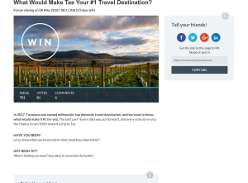 The Urban List
Added: 16-Apr-18
Closes: 04-May-18
In 2017, Tasmania was named millennials' top domestic travel destination, and we want to know what would make it #1 for you. The best part? Every idea you put forward, and every vote earns you the chance to win $500 toward a trip to Tas.


HAVE YOU BEEN?
Let us know what you loved and/or what could have been better?


NOT BEEN YET?
What's holding you back? Any ideas to overcome the hurdle?