Win $500 worth of fuel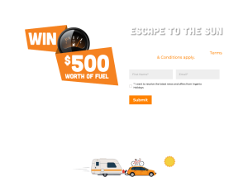 Ingenia Holidays
Added: 18-Jul-18
Closes: 31-Aug-18
ESCAPE TO THE SUN
How does a $500 fuel voucher to get you going on your next adventure sound? Simply sign up to receive all the latest offers and news from Ingenia Holidays for your chance to win.


TERMS AND CONDITIONS
Eligibility

Entry is open to anyone who opts in to the Ingenia Holidays marketing communications in Australia and submits it to Ingenia Communities Group (CAN 46 154 464 990).

To be eligible to win the competition, entrants must be opted in to receive Ingenia Holidays marketing communications at the time of the draw. Entrants can unsubscribe at any time.

Employees, immediate family members of employees, and employees of any company associated with the competition, are ineligible to enter.

Entry

The competition commences at 09:00 on 21 May 2018 and entries close at 17:00 on 31 August 2018.

To enter, eligible entrants must subscribe to the Ingenia Holidays marketing communications. This must be completed either via the Facebook Lead Ad or by visiting the landing page www.escapetothesun.com.au

To be eligible to enter you must be an Australian Citizen, residing in Australia and over the age of 18 years.

Prizes and Winning

A random prize draw will take place at 12:00 on 3 September 2018 at Suite 1, 257 Gympie Road, Kedron, QLD, 4031.

There will be one winner, receiving a $500 fuel card. Total prize pool is $500 in total.

The winner will be the first entry drawn randomly from the total entry pool. The prize is subject to the terms and conditions of the supplier.

Prize Conditions

The winner will be notified by email within two business days of the draw and may have their details published on www.ingeniaholidays.com.au and social media.

If the prize remains unclaimed, a second prize draw will be conducted three days after the original draw at 12:00. If a winner is drawn they will be contacted by email within two business days.