Win a $1,000 Henne Voucher & $750 Crown Getaway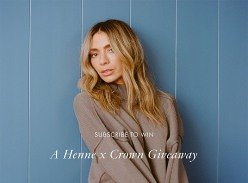 Henne
Added: 16-Jun-21
Closes: 19-Jun-21
1. Information on how to enter and the prize form part of these terms and conditions.

2. Entry is open to all residents of Australia, except employees of the Promoter; and its agencies associated with this promotion.

3. Entries open on 14/06/2021 12.00pm AEST and entries close 19/06/2021 midnight AEST. 4. To enter, simply complete WIN A $1000 HENNE GIFT VOUCHER & CROWN GETAWAY (Crown $750 voucher) Competition form by filling out your details in the required fields to sign up to Henne's email newsletter, and answer the question on our Instagram post 'What Henne piece you want to see in your wardrobe?' & Follow both @henne_ & @crownhotels on Instagram.

4. This is a game of skill and chance plays no part in determining the winner. Each entry will be individually judged based on originality and creative merits. The judges' decision is final. The winner will be chosen on Sunday 20th June 2021 at 12midday AEST at random and will be shown in the post comments.

5. Prize Information – valued at $1,750 • Includes $1000 Henne Gift Voucher & Crown Hotels $750 Voucher to redeem on your choice of 1 nights accommodation and an ultimate in spa pampering treat or a fine dining experience at one of Crowns indulgent restaurants. Can be redeemed at Crown Perth, Melbourne or Sydney. • Prize is not exchangeable or redeemable for cash or other goods or services and cannot be transferred to any other persons. • Prize valid for 12 months. Not to be used in conjunction with any other certificate or offer.

6. The promoter assumes no responsibility for any error, omission, interruption, deletion, defect, delay in operation or transmission, communications line failure, theft or destruction or unauthorised access to, or alteration of the competition and entry forms. The Promoter is not responsible for any problems, illegibility or incomplete entry forms.

7. Winner will be notified by email & Instagram within a day of picking the winner and will have 48 hours to confirm acceptance of prize.

8. If prize is unclaimed, a new winner will be selected on 22nd of June 2021 at 12midday AEST by Henne Head Office.

9. By entering the promotion each entrant consents to receiving any form of communications from the Promoter. They also consent to the information they submit being entered into a database and the Promoter may use this information in any media for future promotional, marketing and publicity purposes without any further reference or payment or other compensation to the entrant.

10. All personal details of the entrants will be stored at the office of the Promoter. A request to access, update or correct any information should be directed to that office In addition, literary or creative artwork or photography pieces become the property of the Promoter and its promotional partners and it is a condition of entry that those pieces may be used by the Promoter for their own promotional, marketing and publicity purposes without restriction.

11. The Promoter is Henne



Indemnity

You indemnify Henne and their Personnel (Indemnified Persons) against:
all losses incurred by the Indemnified Persons;
all liabilities incurred by the Indemnified Persons; and
all costs actually payable by the Indemnified Persons to their own legal representatives (whether or not under a costs agreement) and other expenses incurred by the Indemnified Persons in connection with a demand, action, arbitration or other proceeding (including mediation, compromise, out of court settlement or appeal);
arising directly or indirectly as a result of or in connection with:

any third party claims against the Indemnified Persons arising from your use of or access to the Site;
any breach or violation of the Terms by you.




Accuracy


Henne endeavours to present the most recent, accurate and reliable information on our Site at all times. However there may be rare occasions when some of the information features, incomplete or inaccurate data.
Henne makes every effort to display and inform you as accurately as possible on our product colours, sizes, cut, fit, make and general product descriptions.
In terms of colour display for our products; computer monitors, tablets and mobile devices' resolution may vary and we cannot guarantee that your monitor's display of any colour will be completely accurate.
In relation to varying sizes, cuts and shapes displayed via the images on the Site and featured on our models we cannot guarantee they will fit you exactly the same, as each individual body is different and treat each individual piece differently.
Henne reserves the right to amend errors or to update product information at any time without notice. In the event any information about a product is incorrect (e.g. size, quality, material, price etc).
Henne reserves the right to refuse or cancel any order placed for that incorrectly described item. In the event of such a refusal or cancellation of an order and your chosen payment method has been charged, Henne shall issue a credit to that chosen payment method in the amount of the cancelled order.


Disclaimer

All Content is provided on an "as is" basis and Henne and its Personnel do not warrant or make any representations about the correctness, accuracy, timelines, completeness, reliability, quality or otherwise of the Content.
The use of the Site and the Content is entirely at your own risk. Changes are periodically made to the Site and the Content and may be made at any time.
Henne and its Personnel do not warrant that your access to the Site will be uninterrupted or that the Site will operate error free, that any defects will be corrected or that this Site and its servers are free of computer viruses and other harmful data, code, components or other material.
By accessing the Site, creating an account or placing an order through the Site you assume all associated risk, including but not limited to the risk to your computer, tablet, mobile device, software or data may be damaged by any virus or malicious bug transmitted by this website or any third party website.


By creating an account and becoming a member, you assume all responsibility for the security of your account. You agree to accept all responsibility for activities that occur under your account (e.g. orders placed by someone else using your account). Henne reserves the right to terminate your account without notice at its discretion.


Limitation of Liability

To the fullest extent permitted by law Henne, Henne's Personnel and any third parties mentioned on the Site are not liable for any loss or damage whatsoever (including without limitation, direct, indirect, incidental, special and/or consequential damages or lost profits) resulting from any use or access of, or any inability to use or access the Site.
Miscellaneous

Henne is not liable, and any obligations it has are suspended, during the time and to the extent that Henne is prevented from operating due to a circumstance beyond the reasonable control of Henne including Force Majeure Events.
If any provision of the Terms is found to be invalid or unenforceable by a court of law, such invalidity or unenforceability will not affect the remainder of the Terms, which will continue in full force and effect.
All rights not expressly granted in this document are reserved.
Henne may licence, subcontract and/or assign all or any part of its rights and/or obligations under these Terms without your consent. You cannot licence, subcontract or assign without the written approval of Henne.
The Terms are governed by and construed in accordance with the laws of Victoria, Australia. By accessing and using the Site, you agree to submit to the exclusive jurisdiction of the Courts of Victoria, Australia.
The information on this Site and the Terms has been prepared in accordance with Australian law, but may not satisfy the laws of other countries. If you reside in, or access this Site from, a country other than Australia (User Country), you acknowledge that:
if the information and these Terms satisfy the laws of the User Country, then you are entitled to use and access the Site;
if the information and these Terms do notsatisfy the laws of the User Country, then this Site is not intended for your use and you are not entitled to rely on the information contained on this Site; and
subject to above, you are responsible for compliance with the local laws of the User Country at all times when using the Site.