Win a $1,000 iFly travel voucher!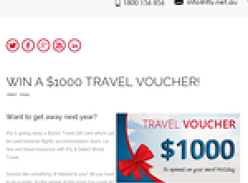 iFly
Added: 26-Sep-14
Closes: 30-Sep-14
TERMS & CONDITIONS:

The Prize Winner will be selected at random from all entries by our computer and will be notified at the end of the promotion on 30 September 2014. $1000 travel voucher will be sent by email within 24 hours after the winner is announced.

Prize is non-refundable, non-transferable and cannot be exchanged for cash. iFly & Select World Travel reserve the right to extend, withdraw or change the conditions of the promotion at any time.