Win a $1,000 Winter wardrobe!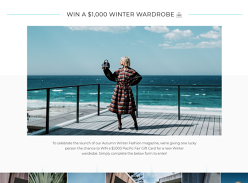 Pacific Fair
Added: 12-Apr-19
Closes: 31-May-19
Entry is only open to Australian residents aged 13 and over. Entrants under 18 years old must have
parental/guardian approval to enter and further, the parent/guardian of the entrant must read and
consent to these Terms and Conditions. Parents/guardians may be required by the Promoter to enter
into a further agreement as evidence of consent to the minor entering this promotion.
Employees (and their immediate families) of the Promoter, Pacific Fair Shopping Centre, tenants and
their employees of the promoter and agencies associated with this promotion are ineligible to enter.
Immediate family means any of the following: spouse, ex-spouse, de-facto spouse, child or step-child
(whether natural or by adoption), parent, step-parent, grandparent, step-grandparent, uncle, aunt,
niece, nephew, brother, sister, step-brother, step-sister or 1st cousin.
This promotion will be conducted at Pacific Fair Shopping Centre in Gold Coast, QLD ("Centre").
Promotion commences at 12pm Tuesday 9 April 2019 and ends at 4pm Friday 31 May 2019
("Promotional Period").
To enter, individuals must complete the following steps during the Promotional Period:
a) Visit the competition page on pacificfair.com.au
b) Complete the competition entry form and submit
Incomplete, indecipherable, or illegible entries will be deemed invalid.
Multiple entries permitted per person.
Multiple entries permitted, subject to the following: (a) each entry must be submitted separately and in
accordance with entry requirements.
The Promoter reserves the right, at any time, to verify the validity of entries and entrants (including an
entrant's identity, age and place of residence) and reserves the right, in its sole discretion, to
disqualify any individual who the Promoter has reason to believe has breached any of these Terms
and Conditions, tampered with the entry process or engaged in any unlawful or other improper
misconduct calculated to jeopardise fair and proper conduct of the promotion. Errors and omissions
may be accepted at the Promoter's discretion. Failure by the Promoter to enforce any of its rights at
any stage does not constitute a waiver of those rights. The Promoter's legal rights to recover
damages or other compensation from such an offender are reserved.