Win a $100,000 + 40,000 Instant Win $5 Fuel Vouchers to be won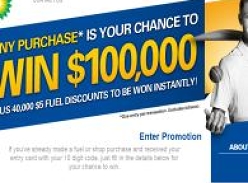 BP
Added: 25-Oct-12
Closes: 28-Nov-12
During the Competition Period, make a fuel or shop purchase (excluding tobacco products from a participating Store (Eligible Purchase) to receive a game card (Game Card) (subject to Game Card stocks remaining in that Store) with a 10 digit code and, either: send an SMS (maximum cost 55 cents (inc GST)) from their mobile phone to 1999 6767 stating in one message and in the following order the 10 digit code from their Game Card, their full name and postcode (errors and omissions excepted in the Promoter's discretion); or visit www.bppromos.com.au(Website) (or scan, using a compatible mobile phone, the QR code located on the back of the Game Card) to play the online instant win scratch game by fully completing and submitting the online entry form, including by providing their full name, mobile phone number, the 10 digit code from their Game Card, their email address and any additional information as required by the Promoter.

There are 40,000 instant prizes to be won.
Each instant prize is a $5 BP gift card. Each instant prize will be mailed out to the winner's address (as specified by the entrant) within 5 days of being notified they are an instant winner (or in the case of an SMS entrant, within 5 days of the Promoter receiving the prize winner's address details). The Promoter does not guarantee that instant prizes will be received by the prize winners within any specific period.
The instant prize pool is valued at $200,000.

There is one major prize to be won.
The major prize is$100,000 cash awarded in the form a bank cheque.

The total prize pool is valued at $300,000.

Authorised under NSW Permit No. LTPS/12/07432, VIC Permit No. 12/2194, ACT Permit No. TP12/03308 and SA Licence No. T12/1647.