Win a $20,000 Qantas voucher, $1000 cruise voucher or 1 of 5 $500 hotel vouchers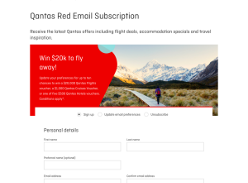 Qantas
Added: 04-Sep-17
Closes: 08-Oct-17
Win $20k to fly away!

Update your preferences for up to ten chances to win a $20,000 Qantas Flights voucher, a $1,000 Qantas Cruises Voucher, or one of five $500 Qantas Hotels vouchers


Important information
By providing your Qantas Frequent Flyer membership number when subscribing to Qantas Red Email, you consent to allow Qantas to share data between Qantas Red Email and Qantas Frequent Flyer profiles. We'll handle your information in accordance with our Privacy and Security policy.
Qantas Frequent Flyer emails

If you're a Qantas Frequent Flyer and want to manage your subscription to, or unsubscribe from, Frequent Flyer emails, you'll need to log into Your Profile and change your preferences.

* Eligible Entrants: Entry is open to AU residents 18+ who are subscribed to Qantas Red Email. Promoter: Qantas Airways Limited (ABN 16 009 661 901) of 10 Bourke Road, Mascot, NSW 2020 (telephone number 1800 505 004). Promotion Period: 12.01 (AEST) on 28 August 2017 to 23.59 (AEDT) on 8 October 2017. Entry: To enter an eligible entrant must during the Promotion Period; a. Visit the 'Update Preferences' page at Qantas.com/redemail, and perform at least one of the following: i) Complete the mandatory fields listed in the form for one (1) entry into the competition: First Name, Last name, Email address, Confirm email address, Country of Residence, State, Email preferences 'What would you like to receive emails about?', Email preferences 'I want to receive offers departing from' (for Australia Flight offers and news or International flight offers and news); ii) Complete the mandatory fields as per clause 'i' and the fields marked as 'optional' in the form as listed for an additional four (4) entries into the competition: Date of Birth, Postcode, Mobile number, What is your primary purpose for travel?, Travel preferences: What type of travel are you interested in?, Travel preferences: What style of accommodation do you prefer?; iii) Complete clause 'i' and 'ii' and provide a valid Qantas Frequent Flyer number for an additional five (5) entries into the competition. b. If not already subscribed, subscribe to Red Email through Qantas Frequent Flyer join process or through the Qantas.com Booking flow for one (1) entry to competition. c. You must be a Red Email subscriber and opted into at least one email preference at the time of drawing to be eligible for the competition. Draw: 14:00 (AEDT) on 13 October 2017. Prizes: One Major Prize and six minor prizes. The Major Prize valued at $20,000, the first minor prizes is valued at $2,000 and next five minor prizes are valued at $500 each based on the recommended retail value and the exchange rate at the time of printing. The Promoter accepts no responsibility for any variation in the value of the prizes. Winner notification: The winners will be notified by email and by telephone within 2 working days after the draw and their names will be published on 20 October 2017 in The Australian newspaper and on qantas.com, (for a minimum of 28 days). Qantas Vouchers are subject to the Qantas Voucher Terms and Conditions located at qantas.com/voucherterms. Authorised under NSW Permit No. LTPS/17/16918, ACT Permit No. TP17/01616, SA Licence No. T17/1522.