Win a $20 Gift Voucher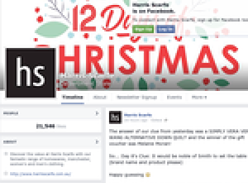 Harris Scarfe
Added: 08-Dec-14
Closes: 12-Dec-14
Welcome to Day 1 of our 12 Days of Christmas!

Over the next 12 days you'll have the chance to purchase some of our hand picked hot deals that are perfect for gift giving or as a special treat for yourself.

You can check out today's products here: www.harrisscarfe.com.au/12-days-of-christmas

And leave your guess for tomorrow's featured product as a comment below!