Win a 20MY Mitsubishi Triton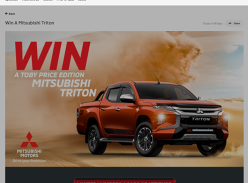 Network Ten
Added: 30-Sep-19
Closes: 24-Nov-19
1. Information on how to enter forms part of the terms of entry. Entry into the Have You Been
Paying Attention, Mitsubishi Competition ("Competition"), is deemed acceptance of these Terms
and Conditions.
Eligibility to Enter
2. Entry is open to all residents of Australia aged 18 years and older. However, employees and the
immediate families of Network Ten Pty Limited (the "Promoter"), Ansible Pty Ltd, and their
associated agencies and companies or any organisation or individual associated with the
provision of the Major Prize are not eligible to enter. Entrants must be residing in Australia at
the time of entry, or their entry may be deemed invalid.
Competition Period
3. The competition commences on Monday 30 September 2019 at 09:00 AEST and closes on
Sunday 24 November 2019 at 23:59 AEDT ("Competition Period").
4. The Competition will be advertised on, but not limited to, Network TEN, www.10play.com.au
and 10daily.com.au.
How to Enter
5. To participate in the Competition entrants (the "Entrant") must:
a. Log on to either 10play.com.au/win and register their details including (but not limited
to) name, phone number, email address, gender and date of birth, to become a 10Play
member. Or 10daily.com.au/win and provide their details including, but not limited to,
name, phone number, email address, gender, date of birth and opt in to 10 Daily to
receive further communications via email.
6. It is free to become a 10Play member or enter via 10Daily, however, the cost of accessing the
Competition's promotional website is dependent on the Entrant's individual service provider.
These Terms and Conditions apply in conjunction with the 10 Members rules.
7. Incomprehensible and incomplete entries will be deemed invalid.
8. Entrants who have won a Major Prize in any Network 10 competition in the past 12 months, as
advertised on the 10Play or 10Daily Winners pages at 10play.com.au or 10daily.com.au, are not
eligible to win a Major Prize in this Competition.
9. A limit of one online entry per day per 10Play member applies. A limit of one entry per person
applies on 10Daily.
10. An entry that is made on behalf of an Entrant by a third party will be invalid.
HYBPA Mitsubishi Triton Competition Terms & Conditions 2019 Page 2 of 6
11. Entries must be received by Sunday 24 November at 23:59 AEDT to be included in the Major
Prize Draw. Each valid entry received over the duration of the Competition Period will be
entered into the Major Prize Draw.
12. The time of entry will in each case be the time the online entry is received by the Promoter's
database. The Promoter accepts no responsibility for any late, lost or misdirected entries due
to technical disruptions, network congestion or for any other reason.
13. The account holder is responsible for any activity and/or entries that have been submitted using
their device (E.g. Phone, computer, tablet etc). It is the account holder's sole responsibility to
control any and all access to their device. The Promoter will not be responsible for any loss,
damage or costs incurred as a result of failure to comply with this. Entrants must not use
another's device without express permission from the account holder.
14. The Promoter reserves the right, at any time, to verify the validity of entries and Entrants
(including an Entrant's identity, age and place of residence) and to disqualify any Entrant who
submits an entry that is not in accordance with these Terms and Conditions or who tampers
with the entry process. Error and omissions will be accepted at the Promoter's discretion.
Failure by the Promoter to enforce any of its rights at any stage does not constitute a waiver of
those rights.
15. In consideration of the Promoter awarding the Major Prize to the Major Prize Winner (the
"Winner"), the Winner hereby permits the Winner's image and/or voice, as recorded,
photographed or filmed during the Winner's participation in the Major Prize to appear in
connection with Network TEN or the advertising or marketing thereof, in any media whatsoever
through the world and the Winner will not be entitled to any fee for such use.
16. The Major Prize Draw will be held on Monday 25 November 2019 at 14:00 AEDT at Ansible Pty
Ltd, Level 3, 100 Chalmers Street, Surry Hills NSW 2010.
17. The Winner will be notified by a phone call within two (2) days of the Major Prize Draw and in
writing and the Winner's details will be published on the 10Play website at 10play.com.au and
10Daily website 10daily.com.au from Wednesday 27 November 2019.
18. If the Major Prize remains unclaimed by Friday 7 February, 2020 at 17:00 AEDT, an Unclaimed
Prize Draw will take place at Ansible Pty Ltd, Level 3, 100 Chalmers Street, Surry Hills NSW 2010
on Monday 10 February 2020 at 10:00 AEDT. The new Winner will be notified of their Major
Prize by phone, in writing and the Winner's details will be published on the 10Play website at
10play.com.au/win and the 10Daily website at 10daily.com.au/win from Wednesday 12
February 2020.