Win a $250,000 First Class Round the World Trip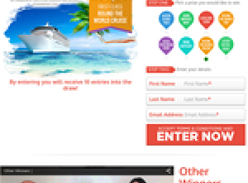 Brand Leaders
Added: 16-Jan-15
Closes: 04-Sep-15
Promotional Period - The promotion commences at 12:01am (AEST) on 10 September 2014 and closes at 11:59pm (AEST) on 4 September 2015 ("Promotional Period").
To enter the promotion, eligible persons must, within the Promotional Period, complete an entry form online at www.brandleaders.com.au or affiliated website or mobile application (via their compatible mobile device in the manner required) of the Promoter ("Eligible Entrant").

All Eligible Entrants will receive 10 entries in the draw when they complete their entry form online.

In addition, by logging onto the Brandleaders Facebook page at facebook.com/brandleaders, Eligible Entrants who are Facebook members can receive fifty (50) additional entries in the draw if they 'Share' the promotion details with their Friends. Eligible Entrants can also receive 50 additional entries in the draw by 'Liking' the Brandleaders Facebook page.


Major Prize. If the Winner selects the envelope containing the Major Prize, their prize will be in the form of the winner's choice of one of the following prize options;

a) Any combination of motor vehicles, motorhomes, trucks, marine craft, caravans/campers, motorbikes, farm machinery, travel, and Cash to a maximum value of AU$250,000;OR
b) Any combination of flights (flight associated taxes included), accommodation and cash to a maximum value of AU$250,000; OR
c) Any combination of furniture, electrical appliances, home improvement products, home improvement services and Cash to a maximum value of AU$250,000; OR
d) AU$250,000 Cheque payable to a property developer of the Winner's choice; OR
e) A cheque for AU$250,000

Authorised under NSW Permit No. LTPS/14/06894, ACT Permit No. TP14/03006, VIC Permit No. 14/5034 & SA Licence No.T14/1605.