Win a $30,000 Trip to Japan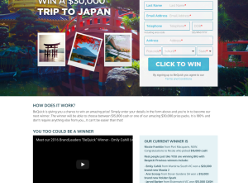 BeQuick
Added: 01-May-18
Closes: 14-Sep-18
The Brandleaders 'BeQuick' Promotion
Information on how to enter and prizes form part of these conditions of entry. Entry into the promotion is deemed acceptance of these conditions of entry.
Entry is open to any person residing in Australia, New Zealand, the United Kingdom, the European Union, United States of America (excluding New York State & Florida), Canada (excluding the Province of Quebec) and South Africa who is aged 18 years and over, void elsewhere and/or where prohibited by law. Employees of the Promoter, the Promoter's associated companies, the Promoter's agencies associated with this promotion and their immediate families are ineligible to enter.
Promotional Period - The promotion commences at 12:01am (AEST) on 22 September 2017 and closes at 14 September 2018. ("Promotional Period").
To enter the promotion, eligible persons must, within the Promotional Period, log into any one of the Promoter's websites, the Promoter's mobile applications (via their compatible mobile device in the manner required), any affiliated website or mobile application (including but not limited to www.pureprofile.com) in the Promoter's partnership program and fully and correctly complete their entry in accordance with the instructions provided or undertake a Brands of Choice telephone survey ("Eligible Entrant").
Where specifically indicated, individuals will gain 1 or more entries by undertaking the following actions following the instructions and links provided by the Promoter.
Sharing the promotional details with their friends on Facebook
Liking the Brandleaders Facebook page
Answering survey questions.
Clicking on a link in a marketing email message.
Clicking on an onsite advertisement.
Completing a marketing offer.
Watching online videos.
Participating in an online market research surveys.
Purchasing products or services from an advertiser.
Sharing content on social networks.
Referring others to join designated sites.
Playing online games achieving defined goals.
Receiving a mobile marketing SMS message.
Verifying their postal address, email address and phone number.
Visiting a designated site and logging in.
Using a claim code or voucher on a designated site.
Reviewing a product or service.
Uploading photos or videos to a designated website.
Agreeing to undertake a Brands of Choice telephone survey.
All eligible entries will be entered into the prize draw. No responsibility will be taken for entries lost, delayed or not completed properly.
The use of any automated entry software or any mechanical, electronic or other means that allows an Entrant to automatically enter repeatedly is prohibited and will render all entries submitted by that Entrant invalid.
Entrants are responsible for their own costs associated with accessing the internet.
Entrants acknowledge that all content posted on Facebook must be in accordance with the Facebook terms (http://www.facebook.com/terms.php).
This competition is in no way sponsored, endorsed or administered by, or associated with, Facebook. Entrants are providing their information to the Promoter and not to Facebook. By entering and participating, entrant agrees to hold harmless, defend and indemnify Facebook from and against any and all claims, demands, liability, damages or causes of action (however named or described), losses, costs or expenses, with respect to or arising out of or related to (i) entrant's participation in the Sweepstake, or (ii) entrant's participation in any Prize related activities, acceptance of a Prize and/or use or misuse of a Prize (including, without limitation, any property loss, damage, personal injury or death caused to any person(s).
The draw will take place at 2.00pm AEST on 19 September 2018 at MDSA, 5/15 Grosvenor Street, Neutral Bay, NSW 2089.
The winner will be notified in writing (email) within 2 working days of the draw date and their name and locality will be published win.brandleadersgiveaway.com.au/Winners from 21 September 2018 for a minimum of 28 days.
The first eligible entry drawn will receive the winner's choice of one of the following prize options;
Any combination of motor vehicles, marine craft, motorbikes (of the winner's choice) and cash to a maximum value of AU$30,000 (or local currency equivalent); OR
Any combination of flights, cruises, bus trips, car hire (including all associated taxes), accommodation (of the winner's choice) and cash to a maximum value of AU$30,000 (or local currency equivalent); OR
Any combination of retail gift cards, online gift certificates, vouchers (including all delivery fee's and additional costs) (of the winner's choice) and cash to the maximum value of AU$30,000 (or local currency equivalent); OR
Any combination of furniture, electrical or musical equipment, furnishings, home improvement products, home improvement services, professional services (including labour costs and all additional taxes & fees), home renovation services (of the winner's choice) and cash to the maximum value of AU$30,000 (or local currency equivalent); OR
Fifteen Thousand Dollars Cash (AU$15,000) (or local currency equivalent)
Total maximum prizepool value is AU$30,000 (or local currency equivalent).
Specific Conditions relating to Prize Option A
The prize includes the first 12 months registration in the winner's State, Territory or Country of residence; the first 12 months compulsory third party insurance and other on road costs including, stamp duty, dealership charges & statutory charges, dependent upon the State, Territory or Country of the winner's usual residential address.
The winner is entitled to select the colour of the vehicle based on the standard range available at the winner's nearest dealership.
All ancillary costs or accessories not expressly provided are the responsibility of the winner. The prize excludes comprehensive insurance, operational costs, fuel, personal costs and any other ancillary or incidental costs related to the prize or anything else not specifically mentioned, which is the responsibility of the winner.
Collection of the vehicle is subject to availability of the vehicle, but is anticipated to be within 8 weeks of the date the winner chooses their preferred model.
If the winner is, through any legal incapacity or otherwise, unable to register the vehicle in his or her name then they may assign the vehicle prize to another person with legal capacity for the purpose of registration. The Promoter takes no responsibility for any such arrangements between the winner and an assignee.
The vehicle will be made available for the winner to collect from the dealership closest to the winner's place of residence as stated in their entry details. All costs associated with travel to and from the dealership is at the winner's own costs.
The Promoter accepts no responsibility for any mechanical, body or paint repairs or maintenance of any kind relating to the prize after the date and time of prize collection by the winner.
Specific Conditions relating to Prize Option B
Travel and accommodation are subject to availability at time of booking for airfares and hotel. The winner and their chosen guests MUST travel together and share the same itinerary.
It is the responsibility of the winner to arrange and confirm reservation dates for the accommodation component of their prize with the relevant hotel upon receipt of their prize voucher.
Luggage check-in and extra options (e.g. speedy boarding, seat and/or meal selection, upgrades, etc) will be the cost and responsibility of the winner;
All other expenses including but not limited to ground transportation to and from the departing and arrivals airport, additional ground transport, all other transfers, meals and beverages, gratuities, applicable taxes, hotel service charges, airport taxes, surcharges, travel and medical insurance, additional spending money, personal expenses, souvenirs, upgrades, incidentals and expenses not expressly specified herein are the sole responsibility of the winner and their chosen guest/s. The major prize winner may be required to present their credit card at time of accommodation check in.
Winner must inform the Promoter at least thirty (30) days (prior to their preferred departure date to arrange airfares. Normal terms and conditions of carriage apply, no stop-over is permitted and there is a maximum stay of 3 months, subject to visa restrictions. Airfare tickets are also not applicable on code share services with other operators and the prize winner is subject to further charges should this not be adhered too.
It is the responsibility of the winner to provide correct names of all persons travelling for the booking arrangements, as the Promoter reserves the right to charge the winner AUD100 (or equivalent value) per guests per change in addition to any airfare tax or surcharges that may increase related at the time of booking for any corrections that are required to any of the traveling documents due to misinformation provided by the prize winner or any change in itinerary made by the winner and/or their guests.
Travel documentation in the form of Gift Certificates, Vouchers & Air tickets provided to the winner and their chosen guests is to be presented to reservationists for redemption. Failure to present the correct documentation by the winner and/or their chosen guests means that redemption will be at the discretion of the provider and the winner and/or their chosen guests may forfeit or be charged extra costs for their prize.
If the winner fails to notify the Promoter or Prize Partner of a change at least 48 hours prior to departure or no-show will forfeit their prize.
No responsibility is assumed by the Promoter for any cancelled, delayed, suspended or rescheduled events once any tickets have been issued in relation to the prize for any reason whatsoever beyond its control.
The winner and their chosen guest/s will be responsible for ensuring travel insurance and travel papers, including passports (with more than six months until expiry at the time of travel) and visa and, where necessary, for obtaining appropriate vaccinations and inoculations are in good order and are valid prior or and for the duration of the trip. The Promoter highly recommends that travellers take out adequate travel insurance.
The Promoter and the associated agencies, make no representation as to the safety, conditions or other issues that may exist at any destination. It is the sole responsibility of the Prize winner (and their companion/s) to first check with all government travel advisory information regarding the safety and situation of the destination of their chosen destination/event.
The Prize winner (and their companion/s) are advised to consult their healthcare professional regarding recommended immunisations and/or health checks prior to travelling and to check for travel warnings and any perceived hazards with appropriate authorities, including www.dfat.gov.au for Australians.
The Prize, or any part thereof, must be accepted as awarded and is non-negotiable, non-transferable to another person and non-convertible to cash or credit. It is not possible to earn or redeem frequent flyer rewards on the Prize. The Prize cannot be used in conjunction with any other special offer. All aspects of the Prize must be taken together as a package.
The winner acknowledges that the Prize may be subject to the terms and conditions of the operators of the relevant accommodation, air and leisure services. The winner must acquaint themselves with these terms and conditions prior to taking the Prize. The Promoter does not accept any responsibility and is not liable for any additional conditions imposed on the taking of the Prize, or for the breach of those terms and conditions by any person.
For Entrants from the USA:
Prize winner (in the case of a minor, the parent/legal guardian (if any) will be confirmed via email and/or phone, and will be required to sign and return, within seven (7) days of notification, an Affidavit of Eligibility, a Liability Waiver, a W-9 Form if required and where allowable, a Publicity Release (collectively, "the Releases"). The Releases will require the winner to furnish his/her Social Security Number for the sole purpose of tax reporting, as required by law. Noncompliance will result in disqualification and an alternate winner may be selected. If a winner is otherwise eligible under these Official Rules, but is nevertheless deemed a minor in his or her state of primary residence, the prize will be awarded in the name of winner's parent or legal guardian who will be required to execute, sign, and return the Releases on minor's behalf. The prize will be awarded within approximately 45 days after the winner is verified.
Prize validity is 6 months from the date of the applicable draw.
Prizes are subject to availability. If any of the prize options are unavailable, for whatever reason, the Promoter reserves the right to substitute any of the prizes for a prize of equal or greater value, subject to state regulation and subsequent approval.
Entrants can only enter in their own name and use their own email address. The Promoter reserves the right to request the winner provide proof of identity, proof of residency, and/or proof of entry validity.Proof of identification, residency and entryconsidered suitable for verification is at the discretion of the Promoter. The Promoter reserves the right to validate and check the authenticity of any prize claim or entry before awarding the prize.
Entries will be deemed to be accepted at the time of receipt and not at the time of transmission. Incomplete or incomprehensible entries will be deemed invalid. No responsibility will be taken for lost, late or misdirected entries.
Programming and other quality control errors will not invalidate an otherwise valid prize claim. Unless otherwise due to fraud or ineligibility under these conditions of entry, all valid prize claims in excess of the advertised prize pool will be honoured.
In the event that for any reason whatsoever the winner does not take an element of the prize at the time stipulated by the Promoter then that element of the prize will be forfeited by the winner and cash will not be awarded in lieu of that element of the Prize.
All existing claims for prizes and entitlements to claims will be met notwithstanding the advertised prize pool have been exceeded.
The Promoter reserves the right to redraw in the event of an entrant being unable to satisfy these competition conditions, forfeiting or not claiming a prize. If the prize remains unclaimed or forfeited through ineligibility or otherwise, the Promoter will conduct a further draw(s) at the same time and place as the original draw on 2 January 2019 subject to state regulations and the winners will be notified in writing (email) and their name and locality will be published on win.brandleadersgiveaway.com.au/Winners from 4 January 2019 for a minimum of 28 days.
Printing errors or other quality control matters outside the control of the individual player shall not be used as the sole basis for refusing to award a prize.
The prize must be taken as offered and cannot be varied. Prize values are GST inclusive and are in Australian dollars and are the recommended retail value as provided by the supplier and are correct at time of printing. The Promoter accepts no responsibility for any variation in prize value.
The Promoter's decision in relation to any aspects of the competition is final and binding on every person who enters and no correspondence will be entered into.
The Promoter and their associated agencies, and companies associated with this promotion will take no responsibility for prizes damaged or lost in transit. Once prizes have leftPromoter's premises, the Promoter will not be responsible for any delay in delivery, or failure of safe delivery of prizes.
The Prize winner is advised that Tax implications may arise from their prize winning and they should seek independent financial advice prior to the acceptance of the prize.
The Promoter shall not be liable for any loss or damage whatsoever which is suffered (including but not limited to indirect or consequential loss) or for any personal injury suffered or sustained in connection with any prize/s except for any liability which cannot be excluded by law.
The Promoter is not responsible for any incorrect or inaccurate information or for any of the equipment or programming associated with or utilised in this competition, or for any technical error, or any combination thereof that may occur in the course of the administration of this competition including any omission, interruption, deletion, defect, delay in operation or transmission, communications line or telephone, mobile or satellite network failure, theft or destruction or unauthorised access to or alteration of entries.
The Promoter reserves the right in its sole discretion to disqualify any individual who the Promoter has reason to believe has breached any of these conditions, or engaged in any unlawful or other improper misconduct calculated to jeopardise the fair and proper conduct of the promotion. The Promoter's legal rights to recover damages or other compensation from such an offender are reserved.
It is a condition of entry into the Promotion that the Winner consents to the publication of their name and city of origin in any advertisements or articles relating to the Promotion or the Prize and participates in any media releases, which may include photographs or videos of the Winner by the Promoter.
All entries become the property of The Promoter. Eligible entrants consent to the use and disclosure of their information for the purposes of this competition by The Promoter and its agents associated with this competition. Eligible persons agree that by submitting an entry, you agree that the Promoter may use your email address to send information and promotions concerning third party products and services and also supply your contact information and questionnaire responses to companies (who may be located overseas in a wide range of countries including Australia, NZ, USA, Canada, UK, EU, South Africa and Philippines), so that they may use them to contact you by mail, phone, SMS, MMS or email to send offers and promote services based on your preferences. If entrants do not consent to their details being used for future marketing purposes, the entrant should contact The Promoter on their details set out below. Any request to update, modify or delete the entrant's details should be directed to The Promoter. The Promoter's treatment and storage of personal information will be handled in accordance with all applicable laws in Australia. The Promoter's Privacy Policy can be found at http://www.cohortglobal.com
If for any reason this promotion is not capable of running as planned, including due to infection by computer virus, bugs, tampering, unauthorised intervention, fraud, technical failures or any other causes beyond the control of the Promoter, which corrupt or affect the administration security, fairness or integrity or proper conduct of this promotion, the Promoter reserves the right in its sole discretion to disqualify any individual who tampers with the entry process, and, subject to any written directions given by the various Lottery Departments, to cancel, terminate, modify or suspend the promotion.
In the case of the intervention of any outside agent or event which naturally changes the result or prevents or hinders its determination, including but not limited to vandalism, power failures, tempests, natural disasters, acts of God, civil unrest, strikes; the Promoter may in its absolute discretion cancel the event and recommence it from the start on the same conditions subject to State Regulation.
The Promoter is Cohort Australia Pty Ltd (ABN: 54 600 161 386) of Level 15, 680 George St, NSW, Sydney 2000.
Authorised under NSW Permit No. LTPS/17/17367, ACT Permit No. TP17/01743 & SA Licence No. T17/1625.