Win a $5,000 'Unique Experience' voucher!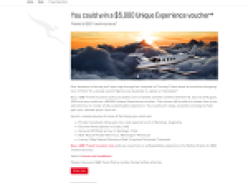 QANTAS
Added: 19-Jul-15
Closes: 31-Aug-15
WHO CAN ENTER?

Entry is open only to all residents of Australia, age 18 years and over (Eligible Entrants), excluding directors, management, employees and their immediate families of the Promoter and its related bodies corporate and registered travel companions of employees of the Promoter and its related bodies corporate.

PROMOTIONAL PERIOD:

All references to time in this document are a reference to the local time in Sydney, New South Wales, Australia on the date stated. The promotion commences at 12.00am on 15th July 2015 and closes at 11.59pm on 31st August 2015 (Promotion Period).

HOW TO ENTER:

To enter, Eligible Entrants must during the Promotion Period:

a) purchase one of the following QBE Travel policies at qantas.com.au or by phone on 13 13 13:

i) an Annual Multi Trip;
ii) an International Comprehensive;
iii) an Australian Comprehensive; or
iv) a Baggage and Cancellation policy (an Eligible Policy);

b) on completion of the purchase of an Eligible Policy, visit the promotion website at qantas.com.au to register your first and last name, email address, phone number and the QBE policy number; and

c) submit an answer in 25 words or less to the question: 'in 25 words or less what would be your ultimate unique experience' (the Prize Question). (collectively, the Eligible Process).

PRIZE:

There will be one prize. The maximum total prize pool value is AU$5,000.00, based on the recommended retail value at the time of printing. The Promoter accepts no responsibility for any variation in the value of the prizes.

The prize is one Unique Experience voucher to the value of AU$5,000.00.