Win a Family Adventure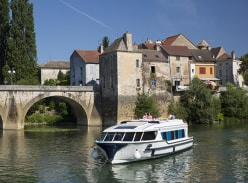 Le Boat
Added: 02-Dec-21
Closes: 31-Jan-22
The Prize is an 8 day, 7 night voyage on the Canal di Midi in a Le Boat Horizon 1.

Prize includes boat rental only.

The Prize is valued from AU$5879 cabin based on 29 May, 2022 departure and value will vary depending on cruising date and boat type.

The holiday must be booked in advance (at least eight weeks before departure) and taken between 1st April 2022 - 31st October 2022. Excludes departures during the following dates: 13th April – 19th April, 29th April – 8th May, 22nd May-6th June, 2nd July – 31st Aug. Once confirmed the booking is final and cannot be amended. Collision damage waiver (CDW) is compulsory and non-refundable, and not included in the prize value. An additional refundable low security deposit will also be requested at the base on arrival. Winners can book a one-way cruise, but a one-way supplement is payable. The prize excludes any fuel used (which is payable locally), optional holiday extras, travel to and from your departure base, food, drink, spending money, waterside services such as moorings, pump out and any other costs.

This prize is non-transferable or refundable and cannot be used in conjunction with any other offer and there is no cash equivalent. Le Boat reserves the right to substitute an alternative boat and cruising region if available is not available at time of booking. Travel must be completed October 31, 2022 or will be considered forfeited. Winner and guests must travel on the same cruise and are responsible for ensuring that they have valid travel documents (e.g. passport/visa), adequate travel insurance (at own expense) and relevant vaccinations. The designated Captain and one crew member must be min. age of 21 at time of travel in order to operate the boat.

No payments will be made for any costs associated with claiming the prize

All references to time in this document are a reference to the local time in Sydney, New South Wales, Australia on the date stated.

No compensation will be payable if a winner is unable to use the prize as stated

The Prize must be taken as offered, is subject to availability and is non-refundable, non-transferrable and not redeemable for cash or any other goods or services. The prize cannot be resold. The Prize cannot be transferred to any other person, unless agreed to by the Promoter. It is a condition of accepting a prize that the winner accept the conditions of use of the Prize

The Prize excludes purchases on board the ship (e.g. including but not limited to beverages, spa, shopping), meals off the ship, optional tours, travel insurance, tips and gratuities, spending money, transport from Winner's home to and from departure airport or port, visas, passports and vaccinations.

If any prize (or part of any prize) is unavailable, the Promoter, in its discretion, reserves the right to substitute the prize (or that part of the prize) with a prize to the equal value and/or specification.

In the event of COVID affecting travel from your home country or to the country of embarkation by government border restrictions only, the promoter will assess and rebook onto another departure in 2023. The promoter is not responsible for any costs incurred by airline changes, pre/post accommodation or transfers associated with the cruise.

The trip may be supplemented with upgrades and additional arrangements outside of the itinerary, at the winner's own expense

If any act, omission, event or circumstance occurs which is beyond the reasonable control of the Promoter and which prevents the Promoter from complying with these terms and conditions, the Promoter will not be liable for any failure to perform or delay in performing its obligations. The Promoter reserves the right (subject to any applicable law) to cancel, terminate or modify or suspend this promotion

The Promoter, its related bodies corporate and their respective officers, employees, contractors and agents (Promotion Parties) will not be liable for any losses, damages, expenses, costs or personal injuries arising out of this promotion, the promotion of this promotion or the use of any prize, including but not limited to any breach of these terms and conditions, contract or tort (including negligence) and any other common law, equitable or statutory remedy (Damages) whatsoever, including but not limited to direct, indirect and consequential Damages, including Damages that cannot reasonably be considered to arise naturally and in the ordinary course of things, even if those Damages were in the contemplation of the Promotion Parties:
a) for personal injury or death suffered or sustained in connection with the supply of goods or services which are supplied by the Promoter in the ordinary course of business. To remove doubt: third party goods or services, which other than in connection with this promotion, are in the normal course of business supplied by a third party unrelated to the Promotion Parties, are not supplied by the Promoter in the ordinary course of business; and the Promoter's Conditions of Carriage and general booking conditions (and any exclusions contained therein) apply despite any statement to the contrary in these terms and conditions; or
b) to the extent it is not permissible at law to limit or exclude liability in the manner contemplated in that clause (in which case that liability is limited to the maximum extent allowable by law).

The Promoter accepts no responsibility for any tax implications that may arise from accepting a prize. Independent financial advice should be sought

Receipt of a prize may have Fringe Benefits Tax (FBT) implications. To the extent that there is any FBT liability, this will be paid for by the employer of the recipient. The grossed-up value of a prize and any other Fringe Benefits the recipient receives during the course of the FBT year may be reported on the recipient's annual PAYG Payment Summary as required by taxation law.