Win a Fly-Rail Holiday Package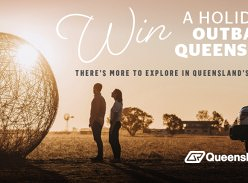 Outback Queensland Tourism Association
Added: 16-Feb-22
Closes: 01-Jun-22
THE PROMOTER:

The promoter is Outback Queensland Tourism Association (OQTA).

ELIGIBILITY:

Entry is only available to residents of Queensland, New South Wales, Victoria, South Australia, Western Australia, Australian Capital Territory, Tasmania, and the Northern Territory who are aged 18 years or older.

HOW TO ENTER:

Entrants must complete the entry form on Outback Queensland's website and fill in all required fields.
The promotion ends 11.59pm (AEDT) on Tuesday 31st May 2022.
Three (3) winners will be announced on Friday 10th June 2022.
THE PRIZE:

1st prize is a fly-rail hoiday package with a selection of iconic Outback Queensland attraction's vouchers, day tour experiences, and accommodation. Total value of the 1st prize is $3500.
2nd prize is an Outback Queensland accommodation and attractions package. Total value of the 1st prize is $800.
3rd prize is a $500 fuel voucher.
No transfer, substitution or cash equivalent for the prize allowed.
All bookings need to be made and confirmed by the prizewinner. Any additional items and insurance requirements not included in the prize must be paid by the prizewinner – where required.
The promoter does not provide travel insurance for the winners and is not liable for any injury, or property loss or damage during travel period.
The promoter recommends the winner purchase travel insurance.
THE DRAW:

The draw will take place on Friday 10th June 2022 in the office of the promoter (OQTA).
Entrants are not required to be present at the draw.
All valid entries will go into the draw and three (3) winners will be selected at random.
Each entrant has an equal opportunity of winning.
The results of the draw are final and no correspondence will be entered into.
OQTA reserves the right to alter or cancel any aspect of this promotion at any time. The winner will be notified via email within one day of the draw.
The winners' names (first name and last name initial only) will be announced on our Facebook page.
The prizewinner will be notified by email – sent to the email address they have provided on entry to the competition.
The prize will be delivered to the winner via email.
A redraw will be conducted in case the winner is unable to be contacted or the prize has not been claimed within three months after the first draw.
This redraw will take place no sooner than three months after the initial draw.
PRIVACY:

Entrants agree to their personal contact information being held and used by the promoter in accordance with the 10 National Privacy Principles contained in the Privacy Act.
Entrants who opt-in to receive marketing information agree to receive information about holidays from Outback Queensland Tourism Association (OQTA).
Entrants consent to their name being announced publicly through Facebook communication if they win the competition.