Win a Fraser Island 4WD Adventure for 2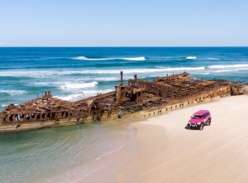 The Outdoors Project
Added: 12-Jan-21
Closes: 06-Feb-21
1. The promoter of the contest is The Outdoors Project.

2. Each person is only allowed to enter the campaign once. Multiple sign ups by a single entity are not permitted.

3. There is no entry fee and no purchase necessary to enter this competition.

4. You must be at least 23 years of age to enter the competition. By entering you agree that you are 23 years of age or older.

5. The approximate prize value is $800

6. Contest begins on 09-01-2021 and ends on 06-02-2020. After this date there are no further entries permitted to the competition. The promoter reserves the right to change the beginning or end date.

7. No responsibility can be accepted for entries not received for whatever reason.

8. Contestants will get 150 extra entries into the contest whenever they refer another valid person into the contest.

9. The promoter reserves the right to cancel or amend the competition and these terms and conditions without notice in the event of a catastrophe, war, civil or military disturbance, act of God or any actual or anticipated breach of any applicable law or regulation or any other event outside of the promoter's control. Any changes to the competition will be notified to entrants as soon as possible by the promoter.

10. The promoter is not responsible for inaccurate prize details supplied to any entrant by any third party connected with this competition.

11. No cash alternative to the prizes will be offered. The prizes are not transferable. Prizes are subject to availability and we reserve the right to substitute any prize with another of equivalent value without giving notice.

12. Winners will be chosen at random, however the more points/entries earned per participant the higher the chance of winning. Note that all winners are selected at random and the highest number of entries does not guarantee any compensation.

13. The winner will be notified by email within 28 days of the closing date with instructions on how to claim the prize. If the winner cannot be contacted or do not claim the prize within 14 days of notification, we reserve the right to withdraw the prize from the winner and pick a replacement winner or cancel the prize.

14. Cheating for entries in any way (referring yourself using different emails or similar tactics) will disqualify you from winning the contest.

15. The promoter's decision in respect of all matters to do with the competition will be final and no correspondence will be entered into.

16. By entering this competition, an entrant is indicating his/her agreement to be bound by these terms and conditions.

17. The competition and these terms and conditions will be governed by Australian law and any disputes will be subject to the exclusive jurisdiction of the courts of Australia.

18. The winner agrees to the use of his/her name and image in any publicity material. Any personal data relating to the winner or any other entrants will be used solely in accordance with current Australian data protection legislation and will not be disclosed to a third party without the entrant's prior consent.

19. The winner's name will be available within 28 days after closing date by sending an email to us.

20. Entry into the competition will be deemed as acceptance of these terms and conditions.

21. This promotion is in no way sponsored, endorsed or administered by, or associated with, Facebook, Twitter or any other social network. You are providing your information to The Outdoors Project and not to any other party. The information provided will be used in conjunction with the Australian standard Privacy Policies.

22. Employees of The Outdoors Project or their family members or anyone else connected in any way with the competition or helping to set up the competition shall not be permitted to enter the competition.

23. Promotion not valid for redemption during peak periods.



Terms & conditions for 4WD Hires
HIRE OF VEHICLE
The hirer of the vehicle must be 23 years or older. All drivers of the vehicle must be over 21 years of age and hold a current drivers license and have had that license for more than two years.

All vehicle rentals require an approved credit card security bond before the vehicle can be released to the hirer.

All vehicle rentals are per calendar day (not 24 hours).

Vehicles are full of fuel at the beginning of hire and must be returned full of fuel. If the vehicle is not returned full of fuel the difference will be charged at a rate, which will include a service component.

Vehicles must be returned to the rental location prior to the designated time and in a clean condition.

Hire packages are subject to kilometre limits according to duration: 1 Day Hire = 150km / 2 Day Hire = 180km / 3 Day Hire = 280km (kilometer limits have been put in place as a guide for safety) if grossly breached charges will apply.


4WD HIRE BOND TERMS
All 4wd vehicle hire packages are subject to a credit card bond of $1000 (groups 23 years & over) $2000 (for groups under 23 years, the hirer must be 23 years and drivers must be over 21years). Total loss liability is $6000 with an excess reduction to $3000 only for groups over 25 years). Bond refunds are completed up to 48 hours after the vehicle is returned in hired condition and a mechanical check has been completed.


COVID-19 HEALTH ANG HYGENE:
In relation to the current social distancing measures put in place by governments to curb the current coronavirus outbreak, we would like our customers to know that we have implemented strict measures to adhere to the requirements. That is why we believe 4wd hire in your own group is the best option for travel to Fraser Island. We will be deep cleaning all hire vehicle interiors with Dettol between each hire. Maintaining strict social distancing measure during the safety briefing as it's only your group and the instructor. Offering online check in for reading and signing of contract/waivers to reduce paper handling etc.


REFUND POLICY
Although we are very sorry for any of your time lost due to a mechanical failure not caused by your own actions, we must stress that Fraser Island is a remote off road environment. Mechanical failures do happen despite the best maintenance procedures.


REFUND DUE TO LOSS OF HIRE TIME
We will wherever possible replace the vehicle as soon as we can and extend your hire for equivalent time lost. The customer must be advised that we are restricted by car ferry times and tides when replacing vehicles and will not be held liable for delays in delivering vehicles as a result of these circumstances.

If extending your hire is not possible, we calculate your refund using the following method: we allow ten useable hours per day for the vehicle, we divide the cost you have paid per day (after local charges – ferry and permits have been deducted) by ten leaving us with a dollar per hour figure, we multiply the number of hours lost by the dollar per hour and refund this amount.

Although we will attempt to solve the problem as quickly as possible, we do not compensate for: personal stress due to a mechanical breakdown, missing connecting travel arrangements, use of any other unapproved travel means or accommodation, for having missed places you wished to travel to if you are unable to extend your hire or tides do not allow.

We do not refund money for hires cut short due to:

Bad weather (unless directed by Queensland parks or Queensland police to leave the island)
Shortening of the rental period by the hirer, unless it can be rehired for that same period of time.
Cars taken from the hirer due to misuse or abuse.

CANCELLATION POLICY - DURING A NORMAL WORLD TRAVEL SITUATION.
Cancellations made 2 weeks prior to departure are subject to loss of any payment made in Low Season. Changes made less than 2 weeks prior to departure are subject to a $50 admin fee. Cancellations made to bookings prior to the aforementioned time period incur a $50 admin charge. Bookings made for High Season periods are subject to full payment with no cancellations or refunds within 1 month of departure.

Late arrival to the 4wd safety briefing of more than 20mins incurs a late fee of $75.

As our 4wd drive safety briefing is completed verbally in English; please advise us if you require extra written information in your language or if you are hearing impaired, as we can accommodate this with prior notice.

A full refund is given in the event that we cannot accommodate a booking due to unforeseen circumstances.


COVID-19 CANCELLATION POLOCY
Please note that we have a relaxed cancellation policy due to the current world situation and the uncertainty that it brings to travel and wanting to plan your next trip. If you make a booking and it turns out you can't make it due to travel restrictions we will offer a full refund. Or we are offering ON HOLD bookings where we make a tentative booking for you to hold your place and then send a secure payment link when it is certain that travel can go ahead. Unsure reach out! We are here to support our future customers to have the smoothest travel experience possible during these difficult times!




WE DO CHARGE FOR THE FOLLOWING
Cars returned late at a rate of 20% of daily rate per hour.
Cars missing the return ferry. Hirers will be charged one extra day's hire.
Cars requiring fuel on return will be charged $4 per litre.
Burned out transmissions will be charged the associated cost to return the car to our Hervey Bay workshop and repair it.
Tyre punctures are no charge, however if the tyre is returned un-repairable due to being staked or driven flat. The hirer will be charged for the cost of replacement.
Hirer's Responsibility
At all times the hirer is responsible for:

Damage caused where the terms of rental contract have been breached.
Damage caused by negligence (failure to check and maintain fluids for engine).
Damage caused to the vehicle in any way by part or total water submersion, or salt water.
Damage caused as a result of a single vehicle accident (an accident not involving another vehicle) where the vehicle hits a stationary object.
Damage caused as a result of damage to someone else property when the hirer is at fault.
Damage caused to the hired vehicle by another vehicle where that vehicle is not able to be made accountable.
Damage caused by the hirers wilful conduct.
Damage caused to the vehicle when using the vehicle in contravention of any legislation or regulation controlling vehicle traffic.
Damage or loss caused to any personal belongings.
Damage to the bonnet, roof or under body of the vehicle.
Damage to transmission or gearbox, not due to fair wear and tear.
Damage due to fuelling a vehicle with incorrect fuel.
Damage or loss of vehicle where the keys have been left in the vehicle.
The business reserves the right to make changes to these terms and conditions as they see fit and without prior notice.