Win a Hawkesbury Weekend Escape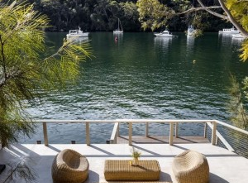 Berowra Waters Holidays and Coast Mag
Added: 07-Mar-21
Closes: 20-Apr-21
The winner will be notified by email. Relatives and employees of Berowra Waters Holidays and COAST Publishing are ineligible to enter. Entries close at 5 pm, April 20, 2021. Entries will be judged by two members of COAST Publishing team. The prize cannot be exchanged or redeemed for cash. By entering we'll deliver future issues of COAST ONLINE free to your Inbox (you may unsubscribe at any time), and you undertake that the Entry words are yours and that the publishers will not be held liable for any breach of these terms and conditions. Entry email addresses will not be shared with anyone outside COAST Publishing and the immediate suppliers of the prizes.

Berowra Waters Holidays Terms & Conditions (ABN 52 117 410 223): The prize must be redeemed by December, 2021, is not valid in peak/Christmas periods or public holidays, and is subject to availability. Original voucher must be presented upon check-in to be valid. The voucher is not transferable, cannot be paid in lieu of booked dates, and can only be amended outside 7 days prior to the confirmed arrival date, other than because of official Government restrictions for Covid-19 or similar.

Once your booking is confirmed, Berowra Waters Holidays Terms & Conditions apply including any safety and insurances, and under no circumstances will COAST Publishing or its officers, employees or agents be liable for any damages or claim (consequential or otherwise) arising from any actions or lack of actions by the provider (Berowra Waters Holidays) of this competition prize.

Please note: Guests are required to leave a security deposit on the property. This can be provided as either credit card details or EFT which is returned within 7 days after departure check.