Win a Holiday for 2 to New Orleans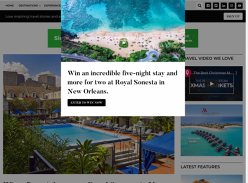 Vacations & Travel
Added: 02-Jan-20
Closes: 24-Mar-20
Entries open 9am on Thursday 19 December 2019 and close at 11am Wednesday 25 March 2020.
This offer is based on space availability and not valid during holidays or special events. Reservations are required and can only be made up to 30 days in advance. Gift certificates must be presented upon check-in and confirmed prior by calling the Executive Office directly at +1-504-553-2221.
The lucky winner will be notified by email and will be published on the website vacationstravel.com and on social media channels no later than Thursday 26 March 2019.
The accommodation prize is valid until 31 March 2021.