Win a Kathmandu Federate Adapt Pack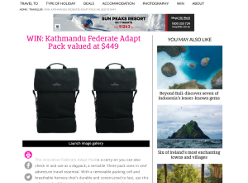 International Traveller
Added: 29-Jun-18
Closes: 24-Aug-18
The innovative Federate Adapt Pack is a carry-on you can also check in and use as a daypack; a versatile 'three pack sizes in one' adventure travel essential. With a removable packing cell and breathable harness that's durable and constructed to last, use this urban pack while journeying by bus, plane or train, because itineraries change.

The prize on offer is a Kathmandu Federate Adapt Pack valued at $449.

To enter, fill out the simple form below.

Answers must be 25 words or less. Entries close August 24th, 2018. Winners announced in the next issue of International Traveller magazine.