Win a luxurious French Open tennis experience + MORE!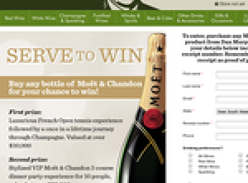 Dan Murphy's
Added: 29-Sep-14
Closes: 19-Oct-14
WHO CAN ENTER?

Entry is only open to residents of Australia aged 18 years or older who, in the event they are a winner, are able to travel to and remain in France during the relevant travel period in order to participate in the Major Prize as described below. The directors, management and employees (and their immediate families) of the Promoter, its related entities, printers, suppliers, providers and agencies who are directly associated with the conduct of this Promotion, are ineligible to enter.

PROMOTIONAL PERIOD:

The Promotion starts at 12.01 (AEST) on 22 September 2014 and ends at 23.59 (AEST) on 19 October 2014 (Promotional Period).

HOW TO ENTER:

To enter, individuals must complete the following steps during the Promotional Period:
a. purchase any of the following Moët et Chandon products from any Dan Murphy's store in Australia during the Promotional Period (each an Eligible Purchase):
• Grand Vintage 750mL
• Rose Imperial 750mL
• Brut Imperial 375mL
• Brut Imperial 750mL
• Brut Piccolo 200mL
• Diamond Suit 750mL
• Rose Diamond Suit 750mL • Nectar Imperial 750mL
• Rose NV 750mL
c. visit the "Moet Can Buy" competition page at: www.danmurphys.com.au/Moet;
d. select the tick box to "opt in" to receive Dan Murphy's email communications; and
e. complete all mandatory fields and submit the online entry form. In completing the online entry form, entrants must include their full name, valid email address, and phone number.
6. Incomplete or indecipherable entries will be deemed invalid.
7. Multiple entries are permitted, provided that:
a. only one entry into the Promotion may be submitted per Store Receipt evidencing the purchase of one or more Eligible Purchase(s);
• Brut Imperial 1.5L
b. retain the store receipt of their Eligible Purchase (Store Receipt) as proof of
the Eligible Purchase;
b. each entry must be submitted separately and must independently comply with these Conditions; and
c. a maximum of one prize may be won by any individual.

PRIZES:

There are a total of fourteen (14) prizes to be won are as follows:
a. one (1) Moët et Chandon Experience, which includes:
i. two (2) return business class flights from the Australian capital city closest to the winner's home including airport transfers and booking costs (valued at up to $23,320);
ii. return airport transfers and 5 star accommodation in Paris for two (2) nights (valued at $2,640);
iii. return transport and 4 star accommodation in Epernay for one (1) night (valued at $2,475);
iv. an overnight trip to the Champagne region in Epernay for a luxury Moët et Chandon VIP tasting experience (valued at $1,100);
v. return transport from the hotel and two (2) one-day exclusive VIP passes to the 2015 Roland Garros French Open Tournament during Week 1 hosted by Moët et Chandon (valued at $2,530);
vi. a glamourous Moët et Chandon VIP dinner experience and gift items in Paris (valued at $2,420), total first prize value $34,485.00,
(the Major Prize);
b. one (1) Moët et Chandon Dinner, which includes:
i. stylised VIP Moët et Chandon dinner party experience for up to ten (10) people (valued at $17,950); and
ii. a 3 course dinner, matched to the extensive Moët et Chandon Champagne portfolio with live entertainment and an exclusive host (valued at $3,800), total second prize value $21,750.
(the Second Prize);
c. twelve (12) individual magnum bottle of Moët et Chandon Brut Imperial (each valued at $151.80 – total $1821.60) + 6 Moet glasses (each valued at $140 – total $1680) = value of $3501.60 + delivery $264 = $3765.60
14. The total combined value of the prize pool for this Promotion is up to $60,000.60 (including GST).