Win a Luxurious Maldives Escape for 2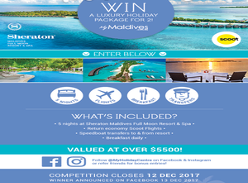 Ignite Holidays
Added: 15-Oct-17
Closes: 12-Dec-17
Make Memories In The Maldives

Imagine waking up to look toward an uninterrupted horizon, with dazzling blues as far as the eye can see; diving straight into clear, calm waters to swim with tropical fish before breakfast. Your days would be spent indulging on fine food, exotic beverages and luxurious services. Think day spa pampering, private speciality dinners, strolls on pristine beaches and more—all these incredible images could become your personal memories when you win this luxury My Maldives holiday for 2!
For your chance to Make Memories In The Maldives, enter the draw below. Follow us on social media and refer all of your friends for bonus entries!