Win a Miele Blizzard CX1 Vacuum Cleaner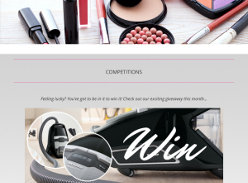 Get It Magazine
Added: 11-Jan-18
Closes: 31-Jan-18
WIN! The latest innovation in vacuum technology!
You know what the worst part about vacuuming is? It's not the energy it takes, it's not how many times you have to nag the hubby to do it, and it's not your dog's constant barking at it because it thinks the vacuum is a rude intruder here to eat up your family. It's when you are done vacuuming and have to empty the bag on your bagless cleaning device and find yourself in a dust storm inhaling all your family's ickiest and yuckiest mess. Gross.

Taking Australia by storm (and out of the dust storms), the Miele Blizzard CX1 is set to change bagless vacuuming forever. This new vacuum superpower achieves outstanding cleaning performance and delivers new standards in hygienic dust disposal.
Miele's first foray into the bagless floorcare segment, the Blizzard CX1 includes Vortex Technology, an exclusive Miele innovation, not only ensures quiet efficiency and powerful pick up, but also a stand-out dust separation system.

With the Miele Blizzard CX1, only coarser dust particles find their way to the dust container, making emptying most efficient and hygienic, and the plume of dust, so common with other bagless vacuum cleaners, a thing of the past. No sneezing fits from the dust anymore!
Finer dust particles and allergens are captured by a separate innovative filter container which only requires emptying, when prompted, once or twice a year. There is no direct physical contact with dust at any stage of the vacuuming process.

With the inclusion of the outstanding bagless Blizzard CX1 range, Miele is the only premium brand to offer a total floorcare solution.
The sleek black Miele Blizzard CX1 Comfort with its ergonomic handle is the top-of- the-range Blizzard, ideal for all vacuuming tasks. Even better, Miele is giving one of Get it's readers the chance to win the $949.00 vacuum for themselves! Enter today.

For more information on the vacuum or Miele visit miele.com.au

Want to win? Enter below!