Win a Mini Cooper S Coupe!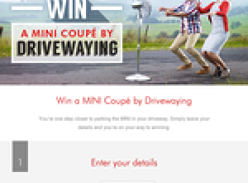 AAMI
Added: 03-Jul-14
Closes: 08-Aug-14
WHO CAN ENTER?
The Competition is only open to individuals who: (i) are Australian residents aged 18 years or older at time of entry; (ii) are not directors, management or employees, or their immediate family members, of the Promoter or its related companies or agencies associated with the Competition (Eligible Entrant).
PROMOTIONAL PERIOD:
Competition entry commences at 9:00am on 30/06/2014 and closes at 11:59:59pm on 8/08/2014 (Entry Period). Except as otherwise stated, all times are Sydney time.
HOW TO ENTER:
To enter the Competition, an Eligible Entrant must, during the Entry Period:
visit luckyaami.com.au (Competition Website) and follow the directions to fully complete and submit the entry form, including their full name, valid email address and postcode; or
b. visit AAMI's Facebook page at facebook.com/aami (Facebook Page) and " like" the Facebook Page (if they do not already " like" it), then click on the Competition tab on the Facebook Page and follow the directions to fully complete and submit the entry form, including their full name, valid email address and postcode.
Entrants may only enter the Competition in their own name. Limit of one entry under Condition 5 per person. Any subsequent entry from the same person under Condition 5 after the first valid entry is received will be deemed invalid.
Entrants will earn one additional entry into the competition if they participate in the Promoter's 'drivewaying' social activity during the Entry Period by:
taking a photo of themselves 'drivewaying' (which is the act of sitting in an imaginary car in the hope of winning a real one); and
posting the photo on Instagram or Twitter; and
tagging the photo with #drivewaying
Entrants can earn up to a total of ten additional entries by participating in this drivewaying activity. For example, an entrant would earn ten additional entries by submitting ten drivewaying photos which are acceptable to the Promoter. It will be at the Promoter's discretion, to determine whether a posted and tagged drivewaying photo is valid under Condition 7(a).
When taking drivewaying photos, entrants should take care to ensure they do so in a safe area, without moving traffic that could pose a risk to them or the photographer.
PRIZE:
All valid entries received during the Entry Period will be entered into the prize draw. The random prize draw will be held at 12:00pm on 13/8/2014 at Contact Management Associates (Vic) Pty Ltd, 92-94 Tope St, South Melbourne, Victoria 3205.
There is one prize to be won. The first valid entry randomly drawn will win the prize. The prize is:
one new MINI COOPER S COUPE, 2011 build year, 2014 compliance plate, Chili Red metallic body paint, black roof, manual transmission. Vehicle prize includes dealer delivery, 12 months* registration (in the winner's State/Territory of residence), 12 months* compulsory third party (CTP) insurance and transfer stamp duty;
12 months* AAMI comprehensive car insurance for the above vehicle. Valued at up to $2,000 including GST. Refer to Condition 15 for insurance terms and conditions.
*Actual period may be less than 365 days depending on the winner's location and delivery/pick up date, but won't be less than 11 months residual benefit.
The prize will be made available to the winner at the nearest authorised MINI dealership to the winner's home address.