Win A Philips Zoom In-Chair Teeth Whitening Treatment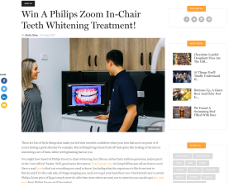 The Urban List
Added: 31-Aug-17
Closes: 13-Sep-17
There are lots of little things that make you feel that extra bit confident: when your new haircut is on point or if you're having a great skin day for example. But nothing brings those fresh AF feels quite like looking in the mirror and seeing a set of Insta-white teeth gleaming back at you.

You might have heard of Philips Zoom in-chair whitening, but (like us) either had a million questions, and/or put it in the "can't afford" basket. Well, good news: the team at Vital Dental Care in Camp Hill has put all our fears to rest! Have a read here to find out everything you need to know (including what the experience is like from start to finish) and if it's the cash side of things stopping you, well, we've got your back there too. Vital Dental Care's current Philips Zoom price of $549 is much more do-able than most others around, not to mention you can also get $50 cash back from Philips Zoom until December!

But one of you lucky things will get to experience the ultimate pearly whites for FREE. Just enter your details below for the chance to win a Philips Zoom in-chair teeth whitening service at Vital Dental Care!


Vital Dental Care Philips Zoom Competition Terms And Conditions
1. Competition closes Wednesday 13 September at 11:59pm. Winner will be notified by email on Friday 15 September.

2. The prize includes a Philips Zoom In-Chair whitening treatment at Vital Dental Care in Camp Hill.

3. Prize must be redeemed between 18 September 2017 and 31 March 2017.

4. Bookings are subject to availability.

5. This prize cannot be exchanged for goods or cash, nor can it be sold to any other person, and is non-transferrable.

6. If the prize winner is located outside of Brisbane, all travel to and from this location will be at the winner's own expense.

7. The winner and all companions must be 18 years or older.

8. The prize travel does not include accommodation, travel, or any other costs of a personal nature not stated. These will be at the winner's own expense.

9. Vital Dental Care takes no responsibility for any liability that may result from, or is claimed to have resulted from, the acceptance or use of this prize.

10. The winner must have uncompromised dental health in order to proceed with the Zoom whitening treatment. The winner's teeth will be assessed prior to treatment. If the winner requires dental treatment Vital Dental Care may need to complete this at extra cost prior to the Zoom whitening treatment.