Win a real tour experience in France!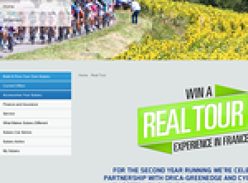 Subaru
Added: 13-May-13
Closes: 31-May-13
Simply book a test drive using the form below and tick YES to the required questions. Then complete your test drive at your nominated Subaru Retail Centre to be allocated 1 entry.

If you test drive and later purchase the vehicle you will then be eligible to receive 100 entries. The purchase and delivery of your NEW Subaru must happen between 01/04/2013 - 31/05/2013. This will provide you with 101 entries in total.

The competition is open to Private Buyers only.