Win a seven-night Mediterranean cruise for two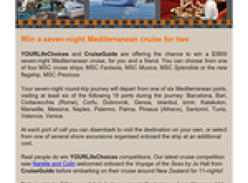 Your Life Choices
Added: 23-Apr-14
Closes: 27-Apr-14
YOURLifeChoices and CruiseGuide are offering the chance to win a $3800 seven-night Mediterranean cruise, for you and a friend. You can choose from one of four MSC cruise ships; MSC Fantasia, MSC Musica, MSC Splendida or the new flagship, MSC Preziosa.

Your seven-night round-trip journey will depart from one of six Mediterranean ports, visiting at least six of the following 19 ports during the journey: Barcelona, Bari, Civitavecchia (Rome), Corfu, Dubrovnik, Genoa, Istanbul, Izmir, Katakolon, Marseille, Messina, Naples, Palermo, Palma, Piraeus (Athens), Santorini, Tunis, Valencia, Venice.

At each port of call you can disembark to visit the destination on your own, or select from one of several shore excursions organised onboard the ship at an additional cost.

Real people do win YOURLifeChoices competitions. Our latest cruise competition saw Narelle and Colin welcomed onboard the Voyage of the Seas by Jo Hall from CruiseGuide before embarking on their cruise around New Zealand for 11-nights!

Entry is simple. Fill in your details below, agree to the terms and conditions and hit Submit! Remember, for each friend you refer to receive an invitation to enter this competition, you will receive an additional entry.