Win a trip for 2 to California & meet up with Mick!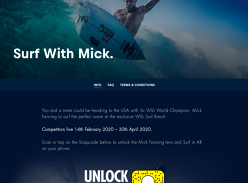 Red Bull
Added: 15-Feb-20
Closes: 30-Apr-20
1. THE ORGANIZER
1.1 This Promotion is run by Red Bull Australia Pty. Ltd. whose registered office is located at Level 1, 55 Doody Street, Alexandria, NSW, 2015, Australia, with the support of the Red Bull's cooperation partners, agencies and service providers ("Organizer").
1.2 In the event this Promotion is run via one or more third party platform(s), the Promotion is not linked to the third party platform(s) and is not organized, endorsed or administered by, or associated in any way by the third party platform(s). Your use on the third party platform(s) is subject to the terms and conditions located on such site. The Organizer disclaims any liability should You fail to comply with the third party platform(s) terms and conditions.
2. THE PROMOTION (the "Promotion")
2.1 The title of the Promotion is Red Bull Surf with Mick.
2.2 This Promotion is entirely free of charge to enter.
2.3 This Promotion starts on 14 February 2020, 08:00:00 am AEST+10 and ends on 30 April 2020, 08:00:00 am AEST+10 (inclusive). All entries must be received by the Organizer before the closing date. All entries received after the closing date are automatically disqualified.
3. ELIGIBILITY
3.1 In order to enter this Promotion and be eligible to get a reward, You represent and warrant that You satisfy the following eligibility criteria:
You acknowledge that You are a natural person 18 years of age or older at the time of entry. Persons under the age of 18 years of age are not allowed to participate in this Promotion or transmit or otherwise submit Personal Data (all data relating to You, such as Your contact details, Promotion responses and photographs) to the Organizer. It is voluntary to provide us with Your Personal Data; however, You will not be able to enter the Promotion if You do not supply all required Personal Data.
The Promotion is only open to residents of Australia. Each Participant must be enrolled at a university throughout the Promotion period. Please note that the Organizer is not liable in cases where Participants are not legally allowed to take part in the Promotion due to national or local laws.
The Organizer is not responsible in case a Participant is not physically or mentally able to perform any or all of the described tasks; there is no legal right to participate in this Promotion whatsoever. Organizer is not liable in case a Participant injures him-/herself while performing actions with regard to this Promotion.
Directors, officers and employees of the Organizer, its parent, and any of their respective affiliate companies, subsidiaries, agents, any company involved in the development or production of the Promotion, professional advisers, third party service providers or advertising and promotional agencies involved with this Promotion, and immediate family members and those living in the same household of such persons (whether legally related or not) are not eligible to enter or win any rewards in this Promotion. The Organizer shall verify these conditions consulting its database at the time of the selection.
3.2 The Organizer will not accept entries that are: (a) automatically generated by computer; (b) completed by third parties (on Your behalf) or in bulk; (c) illegible, have been altered, reconstructed, forged or tampered with; or (d) incomplete. The Organizer reserves the right to verify the email address provided by You including where required, any consent provided by a Guardian to require proof of age, identity and/or other provided details at any time at its discretion. In the event of any dispute, entries containing an invalid email address or incorrect data regarding the age or residence of You will be deemed ineligible. You must not enter this Promotion through the use of multiple email accounts or social media accounts. If it becomes apparent that You have used multiple email accounts or social media accounts to circumvent this rule all Your entries will be disqualified.
4. RULES OF PARTICIPATION, SELECTION PROCESS AND THE REWARDS
In order to successfully enter the Promotion you will have to upload and submit a video using the Mick Fanning lens on Snapchat (the "Submitted Content"). To create the Submitted Content, you will need to 1. Become a registered user of Snapchat (Entrants who are already registered users of Snapchat will not be required to complete this step) 2. Snap the code included on point of sale and other material relating to the Promotion to unlock the Mick Fanning lens. 3. Surf with Mick in augmented reality using the lens. 4. Share with @Redbullau on Snapchat 5. Red Bull will reply on Snapchat with an entry form to complete (per section 4.2) 6. Enter your details including Snapchat handle to complete your entry. 6. We'll snap you back to confirm.
4.1 Once you receive the Snap from Red Bull, to complete your entry and be eligible for the Promotion. you will have to go to www.redbull.com/surf-with-mick and follow the given instructions step by step, which includes providing the data that is requested in order to register (e.g. name and email address). Furthermore, if you register via social sign-in e.g. Facebook, Twitter or Google+, additional information (e.g. age or location) may be provided to us.
4.2 The size and/or length of Your Submitted Content should no more than set out on the applicable platform. You must own the copyright in the Submitted Content. The Submitted Content must be Your own work and must not: (a) be copied; (b) contain third party materials; (c) contain any content You do not have permission to use; (d) be offensive, distasteful, defamatory, dangerous, obscene, inappropriate; (e) violate the rights of any third party (e.g. any identifiable persons appearing in the Submitted Content or reflect a political statement; and/or (f) breach any applicable laws. The Organizer reserves the right to disqualify any entry in breach of this section, and in accordance with these terms.
4.3 There is no limit to the number of entries which may be submitted.
4.4 Mick Fanning, together with representatives of the Organizer and an independent and suitably skilled judge (the "Judges"), will select 1 winner from all the valid entries received based on creativity, artistic design, humour and level of effort used to create the image and/or video e.g. has the participant used other Snapchat tools to make the image or video appealing e.g. was the entry well planned and executed, in accordance with the Terms. The decision of the Judges is final and no correspondence or discussion will be entered into. Due to the expected high number of entries, individual feedback is not possible.
4.5 The reward is: One participant will win: (a) two return economy flights from an Australian capital city to Los Angeles. (b) hotel accommodation for two in a twin room at the Tachi Palace Hotel & Casino in Lemoore, California for up to four nights; (c) VIP entry for two people to the finals day of WSL Championship Tour at the Surf Ranch on 20 September 2020 (c) WSL Surf Ranch access during the Red Bull Activation Day on 22 September 2020 to surf with Mick Fanning in the WSL wave pool and (d) Merchandise pack. Whilst every effort will be made to stick to the schedule set out in this clause, all dates are subject to change at the Organizers discretion and subject to the tour program of the WSL. The outbound flight will be on 19 September 2020 and the return flight will be on 23 September 2020 and will be booked by the Organizer. All transfers in the USA to Lemoore to and from LA airport are included and transport to and from the WSL Surf Ranch. The total value of each reward will not exceed $30,000 total.
4.6 For any questions please email
[email protected]
If the selected reward recipient(s) does not meet the eligibility criteria set out in these Terms, the Organizer will select an alternative reward recipient(s). If You are disqualified, the Organizer is under no obligation to publish this fact. The Organizer undertakes to ensure transparency and to log the selection process appropriately in order for the results to be verified.
4.7 Late, illegible, incomplete, defaced or corrupt entries will not be accepted. No responsibility can be accepted for lost entries and proof of transmission will not be accepted as proof of receipt. Entries cannot be returned.
5. NOTIFICATION AND CLAIMING THE REWARD
5.1 The reward recipient(s) will be announced on 6 May 2020. The contact details You provide with Your Promotion entry will be used to notify You of any rewards You are entitled to receive, so please make sure they are kept up to date and accurate.
5.2 The Organizer shall contact the reward recipient(s) using the telephone number or email address provided with the Promotion entry. On notification, the reward recipient(s) will be provided with details on how to claim the reward and will be given up until 21 days (from when the Organizer notified the reward recipient(s) that they were successful) to claim the reward. If a reward recipient cannot be contacted or is not available, or has not claimed their reward within this period, the Organizer reserves the right to offer the reward to the next eligible participant, selected in accordance with the Selection Process.
5.3 The reward is personal and non-transferable and may not be claimed by a third party on Your behalf.
5.4 A list of reward recipients may be published on the Organizer's website. In the event that You are a reward recipient You agree that the Organizer may disclose Your information e.g. first name, last name, nickname, in accordance with the above.
5.5 Any other incidental costs and expenses associated with reward acceptance, not specifically set out in these terms and use such as security fees, gratuities, luggage fees, snacks, drinks, and incidental charges are the responsibility of the reward recipient(s) (and reward recipient's companion). Ground transportation may be provided in lieu of air transportation if the reward recipient resides within a small radius of the destination, and no compensation or substitution will be provided for difference in value.
5.6 Each reward recipient must possess and show valid travel documents, prior to departure (e.g. valid passport or other acceptable government-issued identification). Travel insurance and spending money are the specific responsibility of the reward recipient and companion. Once airline tickets have been issued, no changes by winner will be permitted. The Organizer will determine airline, airports, flight itinerary and overnight accommodations in its sole discretion. Travel and accommodation restrictions, conditions, and limitations may apply. The Organizer will not replace any lost, mutilated, or stolen tickets or travel vouchers. Reward recipient(s) and, if applicable, their companion(s) will require (and be responsible for the cost of obtaining) a valid passport and/or valid travel documents with at least 6 months' validity as well as any required visas.
5.7 To the extent permitted by law, the Organizer reserves the right to replace any or all rewards with rewards of equal or greater value.
5.8 Please note that no travel or other costs will be reimbursed for the participation in the Promotion except for those expressly mentioned in these Terms. No cash alternatives will be provided and rewards You are entitled to receive are non-transferable and non-refundable.
5.9 The reward recipient shall remain liable for all taxes (including interest and penalties) due and payable to competent tax authorities in respect of any prize monies payable.