Win a trip for 2 to Canada + more!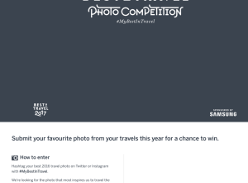 Lonely Planet
Added: 27-Nov-16
Closes: 06-Dec-16
Terms & Conditions: My Best in Travel promotion
Here are the terms and conditions which apply to Lonely Planet's My Best in Travel promotion. Please read them carefully, as they contain important stuff you should know. The promoter is Lonely Planet Global Inc. of 230 Franklin Road, Building 2B, Franklin, Tennessee 37064, USA.
Who's running the show?
Our friends at Samsung Electronics Co. Ltd. (82-2-2255-0114) are our promotional partner.
Information about the prizes and how to enter form part of these conditions of entry. By entering the promotion, these conditions of entry apply to your entry. Any changes to these conditions of entry will be subject to regulatory approval published on the competition entry page www.lonelyplanet.com/best-in-travel/competition, so you should check these conditions of entry regularly.
These conditions of entry are governed by the laws of USA.
Can I play?
This competition is open globally, including to residents of Canada. However the laws in some places don't allow Lonely Planet to run this promotion, in which case the promotion and these conditions of entry are void in those places. Also, you can't enter this promotion if you (or your immediate family including parents, children, siblings, partner and grandparents, or housemates) are directors, management, employees, officers or contractors of Lonely Planet, Samsung, or their subsidiaries or parent or affiliated companies.
How do I play?
To enter you will require a valid registered Twitter or Instagram account. On either platform, post your best travel photo of 2016 with the campaign hashtag #mybestintravel and a brief description/caption. You can hashtag an existing photo in your account, or post a new photo with the hashtag. Your account will need to be set to public in order for your photo to be entered in the competition. You don't have to buy anything to enter. You can enter between 3.00am CDT on 25 October 2016 and 11:59pm CST on 6 December 2016. Your entry is received at the time Lonely Planet receives it. Incomplete and invalid entries will not be accepted. If your entry gets lost in cyberspace or doesn't arrive for any other reason, that's not Lonely Planet's fault. You can enter more than once, but we are looking for quality over quantity.
Lonely Planet might have to extend the dates of the promotion but only if it's totally unavoidable (for example, if the competition entry page is unavailable for 24 hours or more) and we'll let you know if we do.
How do you pick the winner?
Rather than consulting tea leaves, the winner will be selected by a panel of 3 judges, who will review all the eligible entries and then decide by a majority vote from the panel the best overall entry, and runner-up, that inspires us to travel the world. This unenviable task will happen in a small, dark room at Lonely Planet, 230 Franklin Road, Building 2B, Franklin, Tennessee 37064, USA, on 14 December 2016 (or at an undisclosed location otherwise determined as required by Lonely Planet). The judges' decision is final (so there!) and no correspondence will be entered into, even if you think that sucks. Lady luck has nothing to do with this promotion.
Lonely Planet reserves the right to disqualify any entrant who has engaged in unlawful or improper conduct that is designed to jeopardise the fair conduct of the promotion or is generally damaging to the reputation of Lonely Planet, or has otherwise breached these conditions of entry (as determined in Lonely Planet's sole discretion).
Lonely Planet can cancel or modify the promotion if there are compelling technical or administrative reasons which we cannot control. If that happens, Lonely Planet will select the winner(s) from all eligible entries received at that time.
What can I win?
The Grand Prize Winner will receive:
1. One (1) trip for two (2) people to Canada for up to ten (10) days, consisting of one (1) x STA Travel voucher towards return airfares to Canada (USD$4,000), one (1) x Booking.com voucher for accommodation (USD$3,000) and one (1) prepaid cash card to contribute towards travel expenses (USD$2,000) (provided by Lonely Planet – total retail value USD$9,000). The winner will be responsible for any additional costs for airfare, accommodation and travel expenses.
AND
2. One (1) x Samsung Galaxy S7 Edge phone (approx. USD$769.99), one (1) x Gear 360 camera (approx. USD$349.99) and one (1) x Samsung Fast Charge 5200 mah battery pack (approx. USD$69.99) (provided by Lonely Planet; approximate total retail value, USD$1,190)
AND
3. The Grand Prize Winner's image will be featured on www.lonelyplanet.com
Second prize consists of: One (1) x Samsung S7 Edge phone(approx. USD$769.99), one (1) x Samsung Gear 360 camera (approx. USD$349.99), one (1) x Samsung Gear S3 smartwatch (approx. USD$399.99) and one (1) x Samsung Fast Charge 5200 mah battery pack (approx. USD$69.99) (provided by Lonely Planet – approximate retail value USD$1,600.00).
Total prize value is approximately USD$11,800.00. These prize values are accurate at the start of the promotion.
How do I find out if I won?
We'll give the winners the good news by direct message on the social media platform they entered through and their name(s) will be published on www.lonelyplanet.com/best-in-travel/competition within 2 days of selection. If you're riddled with curiosity, send an email to
[email protected]
(including the name of the promotion) within 3 months of the closing date of the promotion, and we'll respond and tell you who won.
Lonely Planet will do its best to find the winner. But if we can't, or if the winner hasn't accepted the prize by 14 March 2017 – 3 months after selection, the next best entry will be declared winner.
If you do win …
We may ask you to provide proof of identify, residency and age, so that we are sure you are who you say you are, and are eligible to receive the prize. We'll decide whether the proof you provide is adequate (but generally speaking, a certified copy of your passport or drivers' licence will be sufficient). If you can't provide, or refuse to provide, suitable proof, then unfortunately you will be disqualified, and we will choose another winner (subject to the direction of regulatory authorities).
You can't exchange the prize for cash, or ask us to give it to someone else (not that you'd want to!). We will use reasonable efforts to award the prize as described but if, due to unforeseen circumstances, we are unable to do that, we'll substitute it either for cash or another prize of comparable value, but we'll decide which.
You'll be responsible for all taxes, insurance and any other expenses, fees and costs connected with that prize that are not included in the prize description.
If, in order to take the prize, you're lucky enough to need a valid passport and/or other necessary travel documentation and visas, you'll need to sort those out for yourself (including finding out what documents you need). If you're under 18, we're afraid you'll have to take one of your parents or a legal guardian with you.
You are responsible for your use of the prize, including complying with any applicable terms and conditions of use, including the STA Travel terms and conditions http://www.statravel.com/terms-and-conditions.htm and the Booking.com terms and conditionshttp://www.booking.com/content/terms.en-gb.html. Of course, if you win a prize, you'll be good and comply with all relevant laws, rules and regulations.
Please note that the nature of the prize may be such that it poses health or safety risks, or risks normally associated with travel to you and your guest (where the prize allows you to take a guest). For this reason, you and your guest should consider any health, safety and travel risks and take appropriate precautions (including arrange insurances) to guard against those risks.
Lonely Planet is not responsible for use of the prize which results in:
(a) loss that was not reasonably foreseeable;
(b) loss that was not caused by our breach of this deed or by our negligence;
(c) business losses (such as lost data, lost profits or business interruptions) or loss suffered by non-consumers;
(d) losses caused by factors which could reasonably be considered to be outside our control (such as faults in third party equipment, or delayed or cancelled flights); and
(e) any loss caused, or contributed to, by your breach of conditions of entry or your negligence.
What happens to my entry?
You agree that all of your entry is your own work. On submission, your entry becomes the property of Lonely Planet. You give Lonely Planet a worldwide, irrevocable licence to reproduce, publish, adapt, communicate and broadcast all or part of it in any form and media, in relation to the My Best in Travel promotion. You also consent to us editing, re-using, storing, reproducing and communicating your entry in any medium. Generally, we will attribute you as the author where possible, but in some circumstances, we may decide not to.
Lonely Planet and its promotional partners will only use the personal information contained in your entry to conduct the promotion and award the prize (but if you've told Lonely Planet that you want to receive stuff from us and/or our promotional partners, we'll use your personal information for that too). If you win a prize, Lonely Planet can use your name and photograph for future marketing purposes unless you tell us not to. We will keep your personal information in accordance with Lonely Planet's privacy policy at http://www.lonelyplanet.com/legal/privacy-policy.
Good luck!