Win a Trip for 2 to Hollywood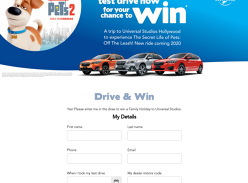 Subaru
Added: 21-Jun-19
Closes: 31-Jul-19
1. Information on how to enter and the prize form part of these Terms and Conditions. Participation in this
promotion is deemed acceptance of these Terms and Conditions.
2. The Promoter is Subaru (Aust) Pty Limited (ABN 95 000 312 792) of 4 Burbank Place, Norwest NSW 2153,
telephone: 02 8892 9111.
3. Entry is only open to Australian residents aged 18 years or over.
4. Employees (and their immediate families) of the Promoter and agencies associated with this promotion are
ineligible to enter. Immediate family means any of the following: spouse, ex-spouse, de-facto spouse, child
or step-child (whether natural or by adoption), parent, step-parent, grandparent, step-grandparent, uncle,
aunt, niece, nephew, brother, sister, step-brother, step-sister or 1st cousin.
5. Entries into the promotion open on 01/06/2019 and close at 7pm AEST on 31/07/2019 ("Promotional
Period").
6. To be eligible to enter, individuals must, during the Promotional Period, book and undertake a test drive of a
Subaru vehicle. The test drive can either be in person at a Subaru retail centre nationally or at-home via a
mobile test drive. Upon completion of the test drive, individuals will be provided with a unique code that is
required for entry.
7. To enter, individuals must then visit www.subaru.com.au/win, follow the prompts to the promotion entry
page, input the requested details into the entry form (including their full name, telephone number and email
address, the unique code and the date the test drive took place) and submit the fully completed entry form
so it is received during the Promotional Period.
8. Only one (1) entry is permitted per person.
9. The Promoter reserves the right, at any time, to verify the validity of entries and entrants (including an
entrant's identity, age and place of residence) and reserves the right, in its sole discretion, to disqualify any
individual who the Promoter has reason to believe has breached any of these Terms and Conditions,
tampered with the entry process or engaged in any unlawful or other improper misconduct calculated to
jeopardise fair and proper conduct of the promotion. Errors and omissions may be accepted at the
Promoter's discretion. Failure by the Promoter to enforce any of its rights at any stage does not constitute
a waiver of those rights. The Promoter's legal rights to recover damages or other compensation from such
an offender are reserved.
10. Incomplete or indecipherable entries will be deemed invalid.
11. If there is a dispute as to the identity of an entrant, the Promoter reserves the right, in its sole discretion,
to determine the identity of the entrant.
12. The draw will take place at Anisimoff Legal, Suite 5, Erina Plaza, 210 Central Coast Highway, Erina NSW 2250
on 06/08/2019 at 3pm AEST. The Promoter may draw additional reserve entries and record them in order
in case an invalid entry or ineligible entrant is drawn. The winner will be notified in writing within two (2)
business days of the draw and their names will be published online at
https://www.subaru.com.au/competition-terms from 08/08/2019.
13. The Promoter's decision is final and no correspondence will be entered into.