Win a Trip for 2 to New Zealand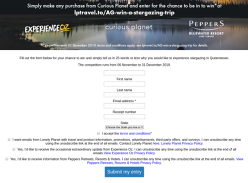 Lonely Planet
Added: 29-Nov-19
Closes: 31-Dec-19
1. Lonely Planet Publications Pty Limited (ABN 36 005 607 983) of The Malt Store, Level 3, 551 Swanston Street, Carlton, VIC 3053, Australia ("Lonely Planet") is the promotor. Our friends over at Experience Oz of Cavill Park 36 46 Cavill Ave Surfers Paradise QLD 4217 ("Experience Oz"), and University Cooperative Bookshop Ltd (Curious Planet) of Level 1, 15 Foster Street, Surry Hills NSW 2010 ("Curious Planet") are the promotional partners.
2. You can enter between 06 November 2019, 00:01 AEST ("Opening Date") AND 31 December 2019, 23:59 AEST ("Closing Date").
3. This competition is open to legal residents of Australia aged 18 or over, except if you (or your immediate family or housemates) are employees or contractors of Lonely Planet, its promotional partners, or subsidiaries or parent or affiliated companies. The laws in some places don't allow Lonely Planet to run this promotion, so the competition and these terms and conditions are void in those places.
4. Information about the prizes and how to enter form part of these conditions of entry.
5. Any notifications and changes to these terms and conditions will be published on the competition entry page lptravel.to/AG-win-a-stargazing-trip, so you should check this page regularly.
6. These terms are governed by the laws of Australia.
7. This competition is in no way sponsored, endorsed or administered by, or associated with, Facebook or Instagram. You understand that you are providing your information to Lonely Planet and not to Facebook or Instagram, and you completely release Facebook and Instagram from any claims in relation to this competition.
You must comply with all applicable laws and regulations including the Twitter Rules. Anyone found to use multiple accounts to enter will be ineligible to win. Multiple entries in a single day will not be accepted.
You must comply with all applicable laws and regulations including the Twitter Rules. Anyone found to use multiple accounts to enter will be ineligible to win. Multiple entries in a single day will not be accepted.
How to enter and prize details
8. To enter, you will need to do all of the following:
a. make a purchase of any product(s) in any Curious Planet store or from https://www.curiousplanet.com.au/ between the Opening Date and Closing Date; and
b. go to lptravel.to/AG-win-a-stargazing-trip, complete and submit the entry form no later than the Closing Date, including telling us in 25 words or less why you would like to experience stargazing in Queenstown, New Zealand and details of your receipt number or order confirmation number (see item 8(a) above).
9. You can enter only once per receipt or order confirmation number. Your entry is received at the time Lonely Planet receives it. Incomplete and invalid entries will not be accepted. If your entry gets lost in cyberspace or doesn't arrive for any other reason, that's not Lonely Planet's fault.
10. 1 x first prize winner will receive:
A. 1 x Star Gazing Tour at Tekapo Springs for up to 2 adults (https://www.experienceoz.com.au/en/tekapo/star-gazing-at-tekapo-springs/star-gazing-tour-at-tekapo-springs), including:
o a stargazing tour in Tekapo Springs;
o Shuttle bus from/to the Tekapo Springs town office;
o Time to relax in the hot pools and take in your surroundings;
o either an exciting indoor or outdoor experience, depending on night sky visibility; and
o a chance to use some professional high definition telescopes
(provided by Experience Oz – approximate value AUD$292.04).
B. 1 x voucher for 4 nights' accommodation in a Deluxe Hotel Room at the Peppers Bluewater Resort, State Highway 8, Lake Tekapo, South Island, 7945, New Zealand for up to 2 people sharing (provided by Experience Oz – approximate value AUD$1,400.00);
C. 1 x Flight Centre Travel voucher towards flights to/from the Queenstown (provided by Lonely Planet – approximate value AUD$2,000.00); and
D. 1 x Mastercard Prepaid Gift Card towards ground transport (provided by Lonely Planet – approximate value of AUD $500.00);
The winner and guest must share the same travel itinerary and hotel room. The tour and accommodation must be taken in one trip. Travel must be booked by 1 September 2020.
Total prize value is approximately AU$4,192.40. These prize values are accurate at the start of the competition.
How is the winner chosen?
11. Rather than consulting tea leaves, the winner will be selected by a panel of 3 judges who will review all eligible entries and, from a shortlist of entries, decide the best overall winner.
12. The task of selecting the winner(s) will happen in a small, dark room at Lonely Planet, The Malt Store, Level 3, 551 Swanston St, Carlton, VIC 3053, Australia, on Monday 13 January 2020. No correspondence will be entered into, even if you think that sucks.
13. We'll give the winner(s) the good news by email and their name(s) will be published on the Lonely Planet website within 2 days after selection. If you're riddled with curiosity, send an email to
[email protected]
(including the name of the promotion) within 3 months of the Closing Date, and we'll respond and tell you who won.
14. Lonely Planet will do its best to find the winner. But if we can't, or if the winner hasn't accepted the prize by 13 March 2020, the next best entry will be declared winner announced (subject to regulatory approval). Where there is a compelling technical or administrative reason out of Lonely Planet's control, the winner(s) will be selected from all eligible entries received at that time.
If you do win
15. We may ask you to provide proof of identity, residency and age, so that we are sure you are who you say you are, and are eligible to receive the prize.
16. You can't exchange the prize for cash, or ask us to give it to someone else (not that you'd want to!). We will use reasonable efforts to award the prize as described but if due to unforeseen circumstances we are unable to do that, we'll substitute it for another prize of comparable value.
17. You'll be responsible for all transfers to and from airports, ground transport, meals, drinks, taxes, insurance and any other expenses, fees and costs connected with the prize that are not included in the prize description.
18. If, in order to take the prize, you're lucky enough to need a valid passport and/or other necessary travel documentation and visas, you'll need to sort those out for yourself.
19. You are responsible for your use of the prize and complying with any applicable terms and conditions of use, including Experience Oz's terms of use (https://www.experienceoz.com.au/en/terms-and-conditions); Peppers Bluewater Resort terms & conditions (https://www.peppers.com.au/terms/); Flight Centre Booking Terms & Conditions (https://www.flightcentre.com.au/booking-terms-condition) and the Mastercard Terms of Use (https://www.mastercard.com.au/en-au/about-mastercard/what-we-do/terms-of-use.html). Of course, if you win a prize, you'll be good and comply with all relevant laws, rules and regulations. Lonely Planet reserves the right to disqualify any entrant who has engaged in unlawful or improper conduct.
20. The nature of the prize may be such that it poses health or safety risks, or risks normally associated with travel to you (and if applicable, to your guest). You should consider any health, safety and travel risks and take appropriate precautions (including arrange insurances) to guard against those risks. Lonely Planet is not responsible for use of the prize which results in:
a) loss that was not reasonably foreseeable;
b) loss that was not caused by our breach of this deed or by our negligence;
c) business losses (such as lost data, lost profits or business interruptions) or loss suffered by non-consumers;
d) losses caused by factors which could reasonably be considered to be outside our control (such as faults in third party equipment, or delayed or cancelled flights); and
e) any loss caused, or contributed to, by your breach of conditions of entry or your negligence.
What happens to my entry?
21. You give Lonely Planet a worldwide, irrevocable licence to reproduce, publish, adapt, communicate and broadcast all or part of it in any form and media, in relation to the 'Win a stargazing trip' competition. You also consent to us editing, re-using, storing, reproducing and communicating your entry in any medium. We will, to the extent practicable, attribute you as the author.
22. Lonely Planet and its promotional partners will only use the personal information contained in your entry to conduct the promotion and award the prize (but if you've told Lonely Planet that you want to receive stuff from us and/or our promotional partners, we'll use your personal information for that too). If you win a prize, Lonely Planet can use your name and photograph for future marketing purposes unless you tell us not to.
23. We will keep your personal information in accordance with Lonely Planet's privacy policy at http://www.lonelyplanet.com/legal/privacy-policy, if you opt-in to receive information from our promotional partners, Experience Oz will use your information in accordance with its privacy policy at https://www.experienceoz.com.au/en/privacy-policy and Curious Planet will use your information in accordance with its privacy policy at https://www.curiousplanet.com.au/privacy-policy/.