Win a trip to Rome!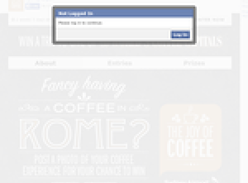 Sydney Airport
Added: 15-Aug-14
Closes: 31-Aug-14
WHO CAN ENTER?

Eligible Entrants means:
(a) a person who is a permanent Australian resident or an Australian Citizen, and
(b) does not include:
(i) any employee or contractor (or their immediate family members) of the Sydney Airport, or
(ii) an employee or contractor (or their immediate family members) of a Sydney Airport Retailer (serving food and beverage including coffee);

HOW TO ENTER:

To enter the competition:
(a) Go to your own Facebook page and "Like" the Sydney Airport Official Facebook page.
(b) Entrants must post a picture of their coffee experience on Facebook through the Competition App or via Instagram by using the #joyofcoffee hashtag. Entrants will only be able to post 1 photo per day.
(c) Entrants will be prompted to complete an online entry form which can be found within the Competition App at https://www.facebook.com/SydneyAirportOfficial to be in the running for the Major Prize and Public Voting Prize.
(d) To increase their chances of winning, Entrants can post one photo every day until the Promotion Period is over.
(e) All entries are required to be submitted before midnight (AEST) on 31 August 2014.
(f) Subject to the individual"s social media settings, entries will be drawn from Instagram through to the Strutta promotional app and will be judged according to the relevant criteria for the Major Prize and Public Voting Prize.
(g) The Promoter, its agents, affiliates or representatives will not be liable for any lost, late or misdirected entries including delays in the delivery due to technical disruptions, network congestion or for any other reason.
(h) Entries not completed in accordance with the Terms and Conditions, and any incomplete or indecipherable entries, will be deemed invalid.
(i) At the end of the times indicated below, two successful Entrants will be selected and be in the running for the prizes listed in clause 1A.
(j) Entrants grant the Promoter permission to communicate with them by email and/or telephone in order to provide instructions as to how the winning Entrant is to claim the prize and establish his/her entitlement to it. Where the Entrant is under the age of 18 years old, the Promoter may contact the Entrant"s legal guardian or parent (provided the name and details of the legal guardian/parent are provided by the Entrant at the time of submitting their entry).

PRIZE:

(a) Major Prize: a gift voucher being in the amount of $5000.00 (non-redeemable as cash and cannot be transferred or exchanged) issued by Flight Centre for a trip to Rome (Major Prize), which must be collected at a Flight Centre store by no later than close of business on Friday, 30 September 2014.
(b) Public Voting Prize: a Nespresso Pixie and Aeroccino3 Breville Electric Titan with Pixie Lingo Cup Kit (4 cups) with a value of $471.90 (incl GST) which will be mailed to the winning Entrant"s Australian address, or, if the winner resides overseas, a VISA gift voucher in the amount of $500.00 which will be issued to their overseas address (Public Voting Prize).