Win a Uniworld Boutique River Cruise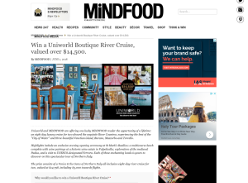 Mindfood
Added: 05-Jun-18
Closes: 31-Jul-18
Uniworld and MiNDFOOD are offering one lucky MiNDFOOD reader the oppurtunity of a lifetime: an eight day luxury cruise for two aboard the exquisite River Countess, experiencing the best of the "City of Water" and three beautiful Venetian island, Burano, Mazzorbo and Torcello.

Highlights include an exclusive evening opening ceremony at St Mark's Basilica; a multicourse lunch complete with wine pairings at a historic wine estate in Valpolicella; exploration of the medieval Padua, and a visit to UNESCO-designated Ferrara. Each of these enchanting locals is yours to discover on this spectacular tour of Northern Italy.

The prize consists of a Venice & the Gems of Northern Italy all-inclusive eight-day river cruise for two, valued at $14,798, including $3,000 towards flights.

Why would you like to win a Uniworld Boutique River Cruise?


Terms and Conditions – Uniworld Boutique River Cruise

Information on how to enter and prizes form part of these Terms and Conditions. Participation in this competition is deemed acceptance of these Terms and Conditions.
Entry is open to Australian residents only, aged 18 years and over.
The competition is a game of skill in which chance plays no part in determining the winners.
To enter, individuals must, during the competition period, visit www.mindfood.com follow the prompts on the competition entry page, input the requested details including the answer in 25 words or less to the following question "Why would you like to win a Uniworld Boutique River Cruise?" and submit the fully completed entry form.
Competition commences on 01/06/2018 AEST. Entries close 10pm on 31/07/2018 AEST. The judging will take place at McHugh Media Australia Pty Ltd, 102/4-14 Buckingham Street Surry Hills NSW 2010 on 01/08/2018 by 12pm AEST. Winners will be notified by email. The Promoter's decision is final and no correspondence will be entered into.
The promoter has one prize for the winner:a Uniworld Venice and the Gems of Northern Italy Cruise (for two people), double occupancy valued up to AUD$11,798, plus $3,000 towards flights. The prize includes:
7-night all-inclusive luxury river cruise on board River Countess including port charges (double occupancy, in a classic cabin);
All meals and unlimited beverages including many premium spirits and wines on-board;
6 days of shore excursions, hosted by English-speaking local experts;
An experienced Cruise Manager and attentive all English-speaking staff;
Gratuities for onboard and onshore services;
Complimentary ship-wide Wi-Fi;
Scheduled airport transfers on arrival and departure days; and
AU$3,000 towards flights.
Total prize value up to $14,728. Prizes are not transferable or exchangeable and cannot be taken as cash. The prize value is correct as at 35 May 2018. The prize is subject to Uniworld's current terms and conditions, which can be viewed at: https://www.uniworld.com/au/terms-conditions/
Cruise on any 2018 or 2019 current departure date, which are available to view at: https://www.uniworld.com/au/river-cruise/europe/italy/venice-and-the-gems-of-northern-italy/2019-venice-to-venice/pricing/, subject to availability at the time of claiming the prize. Your prize is for a Classic Cabin onboard the River Countess with upgrades available for an additional cost, subject to availability. The winner must contact Uniworld to book in their cruise, within two months of competition expiry date. Blackout dates are 26th April 2019 and holiday season departures.
Spending money, additional meals, taxes, optional upgrades, travel insurance, passports, visas, vaccinations, transport to and from departure point (if outside of scheduled transfer guidelines), pre and post cruise accommodation, items of a personal nature, in-room charges and all other ancillary costs are not included. The AU$3,000 towards flights will be deposited into the winner's nominated bank account upon receipt of a flight booking to the value of $3,000 or more. The flights can be booked by the winner or booked through Uniworld at the time of claiming the prize. The winner will be responsible for paying any amount over AU$3,000 towards booking their flights.
Two weeks after the original decision has been made if any of the winners cannot be contacted, any unclaimed prizes will be awarded to the next best entry(ies) as judged by the promoter at the same place as the original judging, subject to any directions from a regulatory authority.
The Promoter reserves the right, at any time, to verify the validity of entries and entrants (including an entrant's identity and place of residence) and to disqualify any entrant who submits an entry that is not in accordance with these Terms and Conditions or who tampers with the entry process. Failure by the Promoter to enforce any of its rights at any stage does not constitute a waiver of those rights.
Incomplete or indecipherable entries will be deemed invalid.
Only one entry permitted per person.
If any prize is unavailable, the Promoter, in its discretion, reserves the right to substitute the prize with a prize to the equal value and/or specification, subject to any written directions from a regulatory authority.
If this competition is interfered with in any way or is not capable of being conducted as reasonably anticipated due to any reason beyond the reasonable control of the Promoter, the Promoter reserves the right, in its sole discretion, to the fullest extent permitted by law (a) to disqualify any entrant; or (b) subject to any written directions from a regulatory authority, to modify, suspend, terminate or cancel the competition, as appropriate.
Any cost associated with accessing the competition is the entrant's responsibility and is dependent on the Internet service provider used.
Except for any liability that cannot be excluded by law, the Promoter (including its officers, employees and agents) excludes all liability (including negligence), for any personal injury; or any loss or damage (including loss of opportunity); whether direct, indirect, special or consequential, arising in any way out of the competition, including, but not limited to, where arising out of the following: (a) any technical difficulties or equipment malfunction (whether or not under the Promoter's control); (b) any theft, unauthorised access or third party interference; (c) any entry or prize claim that is late, lost, altered, damaged or misdirected (whether or not after their receipt by the Promoter) due to any reason beyond the reasonable control of the Promoter; (d) any variation in prize value to that stated in these Terms and Conditions; (e) any tax liability incurred by a winner or entrant; or (f) use of a prize.
The Promoter collects personal information in order to conduct the competition and may, for this purpose, disclose such information to third parties, including, but not limited to, prize suppliers and as required, to Australian regulatory authorities. Entry is conditional on providing this information. The Promoter may, for an indefinite period unless otherwise advised, use the information for promotional, marketing and publicity purposes including sending electronic messages or telephoning the entrant. Entrants should direct any request to access, update or correct information to the Promoter. All entries become the property of the Promoter.
The Terms and Conditions are subject to change at any time without notice.
The Promoter is McHugh Media Australia Pty Ltd of 102/4-14 Buckingham Street, Surry Hills, NSW 2010. ABN 90 126 718 616. Staff, families and agencies of McHugh Media and Uniworld are not eligible to enter.