Win a VIP holiday with 3 friends valued at $20,000!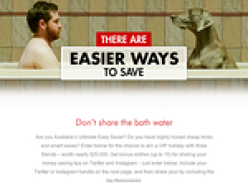 AAMI
Added: 21-Sep-14
Closes: 24-Oct-14
WHO CAN ENTER?

The Competition is only open to individuals who: (i) are Australian residents aged 18 years or older at time of entry; and (ii) are not directors, management or employees, or their immediate family members, of the Promoter or its related companies or agencies associated with the Competition ("Eligible Entrant").

PROMOTIONAL PERIOD:

Competition entry commences at 08:00 AEST on 15/08/2014 and closes 19:00 AEDT on 24/10/2014 ("Entry Period"). Except as otherwise stated, all times are Australian Eastern Standard.

HOW TO ENTER:

To enter the Competition, an Eligible Entrant must, during the Entry Period, visit luckyaami.com.au/easysaves ("Competition Website") and follow the directions to fully complete and submit the entry form, including their full name, valid email address and postcode.
Entrants may only enter the Competition in their own name. Limit of one entry under condition 5 per person. Any subsequent entry from the same person under condition 5 after the first valid entry is received will be deemed invalid.
Entrants will earn one (1) additional entry by:

submitting their Twitter or Instagram handle to the Competition Website; and
sharing their answer to 'what are the crazy things you do to save money' on either Twitter or Instagram using the hash tag #easysaves.

Entrants can earn up to a total of ten (10) additional entries under condition 7. For example, an entrant may earn ten additional entries by submitting ten unique answers. It will be at the Promoter's discretion to determine whether a posted and hash tagged answer is valid under condition 7.
Entries must be received by the Promoter during the Entry Period. Entries will be deemed received at the time that the Promoter is satisfied that all necessary requirements under condition 5, and/or condition 7 if applicable, have been met and not at the time of submission by the Eligible Entrant. The Promoter takes no responsibility for late, lost, incomplete, incorrectly submitted, illegible or misdirected entries or delays or failures in any equipment or telecommunications service used to administer this Competition.

PRIZE:

All valid entries received during the Entry Period will be entered into the prize draw. The random prize draw will be held at 17:00 AEDT on 29/10/2014 at 92-94 Tope St, South Melbourne, VIC 3205.
There is one prize to be won. The first valid entry randomly drawn from all entries received during the Promotional Period will receive one (1) travel prize to Sydney for the winner and the (3) travel companions (aged 18 years or older). The travel prize consists of:

Four (4) Economy flights from the winner's nearest capital city. Should the winner and guests originate from Sydney, the flights will be forfeited and instead this component of the prize will be a corporate transfer to Sydney Dream Drives (adjacent to Sydney Domestic Airport terminal) to collect the vehicle included in the prize;
Three (3) nights at The Priory Mansion (located in Palm Beach, NSW). A $3,000 bond will be required from the winner to guarantee against damages;
Luxury Porsche Cayenne hire for a period of 72 hours. The driver of the vehicle must be a minimum of 25 years of age, and must hold a valid Australian drivers license. Should the winner or nominated guest hold a valid Australian driver's licence but not be over the age of 25, an alternative vehicle will be supplied to the winner and their guests. A bond of $5,000 will be required from the winner to guarantee against any damages (credit card imprint only);
A 2 hour fashion consultation for the winner and three (3) guests in the Queen Victoria Building with Ruby Slippers Styling;
$2,000 spending money provided to the prize winner;
A 4 hour harbor cruise for the winner and three (3) guests on the Seaduced with a three (3) hour food and beverages package including a waiter to serve;
$1,000 inc. GST worth of general food and beverages of the winners choice will be stocked at the Priory Mansion for the duration of the stay; and
A private chef and waiter will be provided at The Priory Mansion on a nominated evening during the stay for the winner and the 3 guests for a five-course meal with matching wines. A string ensemble trio will be available to perform for three (3) hours during the meal.

All components of the prize must be taken together and when offered or will be forfeited. The prize cannot be used in conjunction with other travel discounts or special offers, and frequent flyer points will not be accrued.
Travel must be booked by 01/02/2015 and the trip must be taken by 15/03/2015.
Flights and accommodation are subject to booking and availability. All bookings are subject to the travel supplier's terms and conditions.
The winner and their travelling companion(s) are responsible for ensuring that they have all necessary documents and permissions to travel to the relevant destination (including a current passport and any visas that may be required).
Where a part of the prize involves the winner and their travelling companion(s) attending an event, if any part of the event is abandoned, called off, varied or postponed for any reason, that part of the prize may be forfeited without compensation at the Promoter's discretion, subject to the approval of any relevant gaming authorities, where required.
Other than as expressly stated in these conditions, the prize is non-transferable, non-exchangeable, non-replaceable, and non-redeemable for another prize including cash, except at the Promoter's discretion and subject to relevant State and Territory legislation.
The Promoter encourages the winner and their companion(s) to enjoy any alcohol consumption in moderation. Adults are advised to consider the 'low risk drinking' guideline recommended in the National Health & Medical Research Council's Australian Alcohol Guidelines which states: for healthy men and women, drinking no more than two (2) standard drinks on any day reduces your risk of harm from alcohol-related disease or injury over a lifetime. Drinking no more than four (4) standard drinks on a single occasion reduces the risk of alcohol-related injury arising from that occasion. A full version of the National Health & Medical Research Council's Australian Alcohol Guidelines is available at: http://www.nhmrc.gov.au/_files_nhmrc/file/publications/synopses/ds10-alcohol.pdf. The winner and their companion(s) agree that the prize is subject to relevant health, safety and liquor consumption laws, including responsible service of alcohol requirements of any prize provider. The Promoter additionally encourages the winner and their companion(s) to visit the Australian Government's information site for alcohol at www.alcohol.gov.au.