Win an Epic Easter Escape Giveaway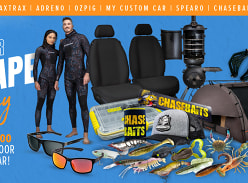 Spotters
Added: 19-Mar-22
Closes: 31-Mar-22
1. This is a legitimate prize (promotional competition) and is not connected to any
government or official lottery.
2. This competition is affiliated with the following brands; Crashpad
(https://crashpadgear.com.au), MAXTRAX (https://www.maxtrax.com.au), Adreno
(https://adreno.com.au), OzPig (https://ozpig.com.au), My Custom Car
(https://mycustomcar.com.au), Spearo (https://spearostore.com.au), Chasebaits
(https://chasebaits.com.au), Spotters (https://spotters.com.au), and hosted by a third
party
3. By entering this competition, you agree to subscribe to email marketing from all
brands, with the option to unsubscribe.
4. By subscribing and entering the competition, you agree to have your full name
displayed on our various marketing channels as part of the winner announcement.
5. Entrants must be over 18 years old to enter
6. Entrants must reside within Australia
7. The winners of the competition will be drawn randomly
8. The Winner will be notified in writing via the nominated email
9. One winner only will be drawn
10. The results drawn are final, and no correspondence will be entered into.
11. The competition closes at 6pm AEST, 31st of March 2022
12. The winners will be contacted no later than 6pm AEST, 14th April 2022
13. If the competition winner does not respond within 72 hours, a replacement winner
will be randomly chosen.
14. If a replacement winner has to be drawn, details of the winner will not be made
publicly available
15. The winner will receive the following, total value of $4,011.
a. MAXTRAX: A Set Of MAXTRAX MKIIs - Your choice of colour (RRP $299),
Flat Rack Mount (RRP $99), Mounting Pin Set (RRP $49.99), MAXTRAX
Merch Kit (RRP $87.98)
b. Crashpad: King Double Outback Swag (RRP $518)
c. OzPig: Ozpig Series 2 Smoker Combo (RRP $669.00)
d. My Custom Car: Two Rows Of Explorer Canvas Custom Car Seat Covers
(RRP $498)
e. Chasebaits: Chasebaits Lure Pack (RRP$380
f. Spotters: Any Two Pairs Of Spotters Sunnies (RRP $640)
g. Adreno: Adreno Saumarez Rail gun - 110cm (RRP $379.99), Inflatable Float
(RRP $99.99), Rope Floar Line - 15M (RRP $49.99)
h. Spearo: Male OR Female Spearo 7 Seas 3.5MM 2 Piece Spearfishing
Wetsuit (RRP $299.99)

16. The prize is non-transferable, non-refundable, and cannot be redeemed for cash.

17. The Promoter and all brands involved reserve the right to vary the terms of, or
cancel, the Promotion at any time without liability to any entrant or other person,
subject to applicable laws.