Win 'House of Marley' Smile Jamaica BT In-Ear Headphones, valued at $79.99!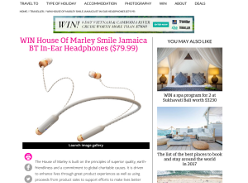 International Traveller
Added: 10-May-17
Closes: 16-Jun-17
Terms and conditions of entry for International Traveller magazine competitions and giveaways.

1. Method of entry

Entrants in any Australian Traveller Media giveaway agree to be bound by these terms and conditions. To enter, contestants must:

(a) satisfy the eligibility limitations set out in paragraph 3;

(b) enter between 9.00am on the last Wednesday prior to the magazine going on sale and 5.00pm on the last Tuesday of the month of the magazines on sale period (or as stated in the Competition Period); and

(c) complete an entry online by answering the nominated questions at internationaltravellermag.com/win


2. Competition duration

The Competition runs during the Competition Period. Entries received after the closure of the Competition Period will not be eligible.


3. Eligibility limitations

Entrants must be, and by entering any competition warrant that they are, individuals with legal capacity, 16 years or older, and reside in Australia or New Zealand.

The following persons are ineligible to enter the competition:

(a) employees of, or contractors to, the Promoter, its subsidiaries and related corporations so far as they are directly associated with this Competition; and

(b) the spouse, de facto spouse, parent, natural or adopted child, and sibling (whether natural or adopted by a parent), of such employees and contractors (whether or not they live in the same household).

All entrants acknowledge that even if the Promoter only learns of a person's ineligibility after the Promoter has appeared to award the Prize to the ineligible person, it may require the return of the Prize or payment of its value to the Promoter to be dealt with as an unclaimed Prize.


4. The draw

The winning entrants will be selected by Australian Traveller Media on the Monday following the end of the competition period at the International Traveller offices at Suite 101, 15 Belvoir Street Surry Hills NSW.

The first valid entry selected for the competition will win the prize.

Details of the prize are set out in these pages and in the competition pages of International Traveller magazine. The winning entrants will be notified by phone and/or email.


5. Competition administration

The promoter in its reasonable discretion shall determine the verification tests and procedures.

ID that includes a photograph, proof of age, identity, employment and residency may be required.

The Promoter reserves the right to appoint judges for the Competition. Judges decision is final and no correspondence will be entered into.

Upon request by the promoter a receipt and acknowledgement of these terms and conditions must be signed and endorsed by the winning contestants to indicate his/her understanding and acceptance of these terms.

It is the sole responsibility of each winning entrant to claim their prize.

If for any reason a prize remains unclaimed after one month after notification has been sent to the relevant winning entrant, the competition will be redrawn. The winners of the unclaimed Prize draw will be notified by phone and/or email, and published in International Traveller magazine in the next issue published.


6. Prize collection

All entrants acknowledge that the Promoter has the right to publicise and publish his / her name, character and likeness.


7. Promoter's limitation of liability

To the extent permitted by law,

(a) the Promoter is not responsible or liable for:

(i) inaccurate / incorrect transcription of entry information;

(ii) purported entries that are not received for any reason, including because they are lost, misdirected or stolen, or that are received, but are late, illegible, incomplete, sent with insufficient postage (where entry is by post), or sent other than as directed in the entry instructions;

(iii) any problems or technical failures of any kind, including malfunction of any telephone network or lines, computer online systems or network, servers or providers, computer equipment, or software;

(iv) the unavailability or inaccessibility of any service whether or not caused by traffic congestion on the Internet or at any website;

(v) unauthorised human intervention in any part of the Competition;

(vi) electronic or human error which may occur in the administration of the Competition;

(vii) any loss suffered or sustained, to person or property and including, but not limited to, consequential (including economic) loss by reason of any act or omission, deliberate or negligent, by the Promoter, or its servants or agents, in connection with the arrangement for supply, or the supply, of any goods or services by any person to a Prize winner and, where applicable, to any family/persons accompanying a winner; or

(viii) any injury or damage to persons or property, including to the participant's or any other person's computer related to, or resulting from, participation or downloading any materials in this Competition.

(b) The promoter will not be liable for personal injury suffered during Prize winnings or due to or in connection with the receipt of or utilisation of a Prize. Each winning entrant, and his or her guests (if any), must sign and return any liability release and indemnity provided by the Promoter and/or its contractors as a condition of a Prize being awarded. Failure to return the signed releases and indemnities will result in the entitlement to the Prize being forfeited and the selection of another winner.

(c) This condition does not affect, and is not intended to affect, any rights a consumer might have, which cannot be excluded under applicable consumer protection laws. To the fullest extent permitted by law, any liability of the Promoter or its servant or agents for breach of any such rights is limited to the payment of the cost of having the Prize supplied again.

(d) The Promoter is not responsible for any incorrect or inaccurate information, either caused by the phone user or website user or for any of the equipment or programming associated with or utilised in this competition, or for any technical error, or any combination thereof that may occur in the course of the administration of this competition including any omission, interruption, deletion, defect, delay in operation or transmission, communications line or telephone, mobile or satellite network failure, technical problems or traffic congestion on the Internet or website, software failure, theft or destruction or unauthorised access to or alteration of entries and any injury or damage to an entrant's or any other person's computer related to or resulting from participation in or down-loading any materials in this competition.

(e) If for any reason this Competition is not capable of running as planned (including but not limited to) technical failures, unauthorised intervention, fraud or any other causes beyond the control of the Promoter which corrupts or affect the administration, security, fairness, integrity or proper conduct of this Competition, the Promoter reserves the right in its sole discretion to disqualify any individual who tampers with the entry process, and, subject to any written directions given by the various Lottery Departments, to cancel, terminate, modify or suspend the Competition.

8. Entries and privacy: All entries become and remain the property of the Promoter. The personal information of entrants will be collected to enable the Promoter to administer and promote this Competition and its winners and may be used to market its services (or those of its related bodies corporate to the entrant. The personal information of winners may be provided to others assisting, including Prize suppliers and deliverers, and to authorities that regulate this Competition. If an entrant does not truthfully provide all requested personal information, the Promoter may determine that they are not eligible to win the Prize.

9. All entries to competitions will automatically be subscribed to our e-newsletter.



Promoter: Australian Traveller Media – Suite 101, 15 Belvoir Street Surry Hills NSW.