Win Return Flights for 2 to Byron Bay, 2 Night Apartment Stay, Gift Vouchers, Meals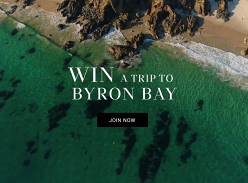 Imbibe
Added: 09-Jul-22
Closes: 02-Sep-22
1. These terms and conditions ("Terms and Conditions") govern the Promoter's competition giving you the chance to win a trip to Byron Bay for two including airfares, accommodation and activities as listed worth a total of AU$3,000 in total. The entrant acknowledges and agrees that entry to this promotion is deemed acceptance of these Terms and Conditions of Entry.
('Competition').
By entering this Competition, you agree to be bound by these terms and
conditions. You should read them carefully and we recommend you save a
copy of them for your reference.
Imbibe Living (The 'Promoter')
2. Entrants must;
must be aged 18 years or over. Proof of age may be required to be produced to the Promoters on request
be an IMBIBE newsletter subscriber and Instagram follower during the competition period to qualify for a prize
not be a director, officer, management, employee and other staff (and the immediate families of directors, officers, management, employees and other staff) of the Promoter or of its related bodies corporate, or of the agencies or companies associated with this competition.
be residents of Australia at the time of claiming the Prize or in the alternative submit to the jurisdiction of Australian Law and indemnify the Promoter in respect for any taxes, duties or tariffs that may be applicable in respect of an international entrant.
3. Entries, submissions and copies of attachments and photographs;
all entry instructions form part of the terms and conditions. Incomplete or corrupt entries will not be accepted
must be received as set out in the schedule and the Promoter accepts no responsibility for late or incorrect entries.
must be provided by 11.59pm AEST on Sunday, 02 September, 2022 to qualify for the prize. The promotion ends on 02 September, 2022, at 11.59pm. One winner will be notified on Monday, 03 September, 2022. The winner will be able to nominate a further person to take on the trip.
5. All prizes will be gifted in voucher form unless otherwise specified. Booking of fights, travel, accommodation, classes etc. is the winner's responsibility. Airport transfers from Coolangatta Airport and any subsequent travel throughout the trip is the responsibility of the winner. Imbibe Living accepts no liability for any injuries or other experienced by the winner while undertaking activities or travel related to this competition and prize.
5. Entries received will be considered final. Entries, submissions and copies of attachments and photographs provided other than in accordance with the Competition terms and conditions will be deemed invalid.
Prizes
6. The Promoter's decision is final and no correspondence will be entered into.
7. The winners will be notified by email and/or Instagram utilising their Imbibe Newsletter Subscription details. Imbibe Living Pty Ltd accepts no liability where the information provided in the subscription details are incorrect.
8. The (1) prize is valued at approximately AU$3,000 and contains the following
Return flights for two persons from anywhere in Australia provided in the form of a cash bank transfer; value of AU$450 (AU$225 per person)
Two nights luxury accommodation for two people at Apartamento Byron Bay
One gift voucher for SPELL valued at AU$200
One AU$100 gift voucher for Loco Love Byron Bay
One AU$250 gift voucher for Love Isabelle Jewellery
Two facial vouchers at Aesthetica Byron Bay
Two intro offer vouchers valued at AU$49 each for Yoga at State of Salt
Two Class Passes valued at AU$55 each for Reformer or Mat Pilates at Fluidform Pilates Byron Bay
Two Long Meal Only Lunches at Frida's Field Byron Bay Restaurant (Friday-Sunday bookings)
Two 'Forest to Beach' rides at Zephyr Horses Byron Bay valued at $220 pp
One IMBIBE luxury skincare pack
9. Prizes must be claimed by 10 October, 2022 or could be subject to forfeit.
General
10. The competition is based on chance and skill plays no part in the selection of the winner.
11. If any prize is not claimed by the Prize Claim Date and Time, the relevant winner's entry will be deemed invalid and the Promoter reserves the right to make further judgments as to the winners on the Unclaimed Prize Date as are necessary to distribute the prize/s, subject to any directions given by any relevant authority. If required by law or any relevant authority, the winner/s will have their name and state of residence published on the Imbibe Living website in accordance with the Unclaimed Prize Draw Publication Details. If no Unclaimed Prize Draw Date is specified, any unclaimed prize/s will be distributed at the Promoters discretion.
12. The Promoter (including their associated agencies and companies);
will not be liable for any loss, expense, damage, personal injury or death which is suffered or sustained (whether or not arising from any persons negligence) in connection with this competition or accepting or using any prize, except for any liability which cannot be excluded by law (in which case that liability is limited to the minimum allowable by law).
may, in its sole discretion, disqualify any or all entries from, and prohibit further participation in this competition by, any person who tampers with or benefits from any tampering with the entry process or with the operation of the competition or acts in violation of these terms, acts in a disruptive manner or acts with the intent to annoy, abuse, threaten or harass any other person;
accept no responsibility for any tax implications that may arise from the prize winnings. Independent financial advice should be sought. Where the operation of this competition results in, for GST purposes, supplies being made for non- monetary consideration, entrants agree to follow the Australian Taxation Offices stated view that where the parties are at arm's length, goods and services exchanged are of equal GST inclusive market values
13. The information entrants provide will be used by the Promoter for the purpose of conducting this competition. By entering this competition, entrants' consent to the storage of their personal information on the databases of the Promoter and its related bodies corporate and the Promoter and its related bodies corporate may use this information for future promotional and marketing purposes regarding their products and services including contacting entrants via electronic messaging. The Promoter may disclose the entrant's personal information to its contractors and agents to assist in conducting this competition or communicating with entrants. The Promoter is bound by the National Privacy Principles in the Privacy Act 1988. Entrants can view Imbibe Privacy Policy. Entrants can request access to the personal information the Promoter and its related bodies corporate hold about them by contacting the Promoter at the address stated in the Schedule.
14. Unless the contrary intention appears, a reference in these terms, the Schedule or in any advertisement relating to this Competition, to Australian dollars, dollars, AUD$ or $ is a reference to the lawful currency of Australia.
Personal information
15. By entering the competition;
You accept the terms and conditions, including that the Promoter may use your personal details for the purpose of conducting the competition, including the use of your photo and information in promotional formats;
you give The Promoter permission to contact you via social media including without limitation via Instagram, Facebook, the Imbibe webpage or email if you are a winner of the competition; and
you give The Promoter permission to use your submitted image/s and names in promotional formats via The Promoter's websites and social media channels and in subsequent promotions with the relevant attribution. Entrants and winners will not be entitled to any fee for such use
16. Additional terms;
By participating in the Competition you hereby warrant that all personal information submitted by you is true, current and complete and that the e-
mail address you submit is accurate and valid.
Any entry made or attempted to be made in a manner which in the Promoter's reasonable opinion is contrary to the spirit of these Terms and Conditions or by its nature is unfair to other entrants will be invalid and may result in your disqualification from the Competition. Examples of entries or behaviour which are not allowed include fraudulent entries, bulk entries, automated entries, cheating, hacking or deception. The Promoter reserves the right to cancel the Competition or amend these Terms and Conditions at any time without prior notice in circumstances beyond the Promoter's reasonable control where the Promoter reasonably considers such cancellation or amendment is unavoidable.
The winner acknowledges that all intellectual property rights belonging to the Promoter, such as but not limited to the Imbibe Living logos, as well as the intellectual property rights of its partners and sponsors and any audiovisual material produced containing images of the Competition winners are and shall remain the Promoter's sole and exclusive property or its partners or sponsors.
The winner acknowledges that they are responsible for the organising and booking of all trip related travel, classes and other. The prize will be gifted in voucher form and it is the responsibility of the winner to book appointments and tickets with participating vendors within the available voucher validity
period. Any loss due to the winner's delay in booking is not the responsibility of the Promoter.
The Promoter cannot accept responsibility for any error, omission, interruption, deletion, defect, delay in operation or transmission or mail delivery, communications line failure, theft, destruction, corruption, alteration of, or unauthorised access to entries, or entries lost or delayed whether or not arising during operation or transmission as a result of server functions, virus, bugs or other causes outside its control.
The Promoter shall not have any liability and does not accept any responsibility for any damage, loss, injury or disappointment suffered by any participant in this Competition or resulting from the Prizes. The winner acknowledges that the promoter will not be liable should any injury or other arise from entering, winning or partaking in the prize of this competition directly or indirectly.
In the event of any dispute, whether such dispute concerns the conduct or eligibility of participants, results or any and all other matters relating to the Competition, the decision of the Promoter shall be final and no correspondence or discussion shall be entered into.
17. If entrants do not wish to be bound by the Competition terms and conditions or participate in the Competition after they have entered then they must email
[email protected]
and advise that they do not wish to participate.