Win the All 4 Adventure dream competition worth over $185,000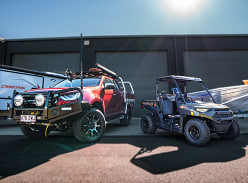 Park Bligh
Added: 17-Mar-21
Closes: 21-Mar-21
GENERAL
Information on how to enter and prizes form part of the Terms and Conditions of Entry. Entry into this competition is deemed acceptance of these Terms and Conditions.
To the extent of any inconsistency between these Terms and Conditions and any other reference to this competition, these Terms and Conditions prevail.

WHO CAN ENTER
Subject to the clauses below, entry is open to all residents of Australia who have fulfilled the requirements set out below (' Eligible Entrants '). Entrants must be 18 years or over and, as of the date of entry and have their own valid email address.
Employees, and their immediate families, of the Promoter, associated agencies and companies, Permitz Group Pty Ltd ( www.permitzgroup.com.au ), contractors or individuals are not eligible to enter this competition. Immediate family means any of the following: spouse, ex-spouse, defacto spouse, child or step child (whether natural or by adoption), parent, step parent, grandparent, step grandparent, uncle, aunt, niece, nephew, brother, sister, step brother, step sister or 1st cousin.
The Promoter is Park Bligh Pty Ltd (ABN 18 090 610 432) (the ' Promoter '). The Promoter's address is 83 Woongarra St, Bundaberg, QLD 4670.

HOW TO ENTER
To enter Eligible Entrants must, during the Promotional Period, visit www.all4adventure.com and follow the links to the entry page. By registering, every entrant gets 1 entry into the competition. Up to 35 additional chances to win can be earned by entering unique keywords. One (1) keyword is displayed at the end of each of the ten (10) episodes of All 4 Adventure Series 12, twenty (20) entries can be achieved by entering keywords made available on various online pages as directed on the All 4 Adventure competition website, and an additional five (5) bonus entries can be gained by entering a unique keyword available to individuals who have an active subscription at www.unleashed.tv during the competition period.
By submitting an entry into this competition, entrants consent to receive promotional and other marketing messages from the Promoter (including messages sent electronically for an unlimited period of time). Entrants will be able to opt-out at any time by following the instructions included in each message sent by the Promoter. Opting out during the period of the competition will remove their entries from the competition.
Entrants must provide contact details on request to be eligible to win. Entrants may only enter in their own name and with their own email address. Incomprehensible, illegible, and incomplete entries may be deemed invalid.

NUMBER OF ENTRIES PERMITTED

Up to 36 entries per person will be permitted. One automatic entry per Entrant and then one additional entry for each unique keyword supplied and a bonus five entries for the Unleashed unique keyword. Entrants found to be creating multiple accounts for entry may have all entries invalidated.

OPEN, CLOSE, DRAW AND PUBLISH DATES
Competition opens 30/10/2020 at 12:00 PM and closes 21/03/2021 at 12:00 PM. (' Promotional Period '). All times noted in these Terms and Conditions are local times, based on the location of the Promoter. If any draw date falls on a public holiday, as defined in the state of the Promoter, that draw will be conducted on the next business day. Entries must be received by the Promoter prior to the competition close date and time.
The winner will be the first valid entry drawn on 21/03/2021 between 2:00 PM and 4:00 PM at the National 4x4 Show Brisbane, located at Brisbane Showgrounds, 600 Gregory Terrace, Bowen Hills QLD 4006, Australia. In the event that the National 4x4 Show is cancelled or postponed then the Promoter will notify all entrants of the alternative draw arrangements. The Promoter will ensure that all entries have an equal chance of winning a prize.
The winner will be announced at the time of the draw at the Brisbane National 4x4 Show. The winner will later be announced on Facebook and other social media channels. The winner will be notified by email within two business days of the draw. Their name will also be published on 22/03/2021 at https://competition.all4adventure.com for 28 days.
Prizes (or in the case of vouchers, prize confirmations) will be available for collection within 28 days of the draw.
The Promoter may conduct such further draws on 29/06/2021 (at 11:00 at Promoter's Premises at 83 Woongarra St, Bundaberg, QLD 4670) in order to distribute any prizes unclaimed by this date, subject to State and Territory legislation. Winners of any further draws will be notified by email within two business days of the draw. Their names will also be published on https://competition.all4adventure.com/ on 30/06/2021 for 28 days.

PRIZE ON OFFER
The total prize pool is valued at up to $186,215.95 (Including GST), as at 30/09/2020
The total number of competition winners in this competition is one (1).

THE PRIZE ON OFFER IS:

LIVE THE ALL 4 ADVENTURE DREAM
Series 12 Competition Package RRP
Isuzu D-MAX LS-U Crew Cab 4x4, Tow Bar Kit , Tow Bar Wiring Harness - 12 Pin Flat, Rubber Cabin Floor Mats, Magnetic Red mica, On Road Costs, Stamp Duty $63,362.95

A4A Off-Road Adventure Fitout including:

$48,473
Clearview Powerfold towing mirrors
Rhino-Rack Pioneer platform with Backbone mounting system, Sunseeker 2.0m awning, shovel, recovery track bracket, folding aerial bracket, eye bolt kit, rapid locking straps, LED light bracket, Stow-It
REDARC Manager 30, Towpro Elite, 10A AC charger, 190W solar blanket, wiring kit
Outback Armour Suspension upgrade including fitting
Norweld Gen2 Deluxe Tray
Uniden UH9080 UHF radio, AT970 antenna, Dashview 30 dashcam
Ultimate9 EVC Throttle Controller, LiveTrack Stealth GPS tracker, LiveTrack Nomad GPS tracker, Bluetooth battery monitors
Supafit Seat Covers Front and rear denim seat covers
Brown Davis Long-range tank plus fitting
ROH 5 x Trophy 17x9 Rims
TJM Bullbar and Winch
XTM Recovery kit, compressor, driving lights
Maxtrax 2 sets Maxtrax Xtreme and Maxtrax Trailer Skid
CampBoss Boss Ring, Boss Hitch, 8T Boss Rope, Jaffle Iron
Jayco Crosstrak Offroad Hybrid Camper $44,590
BCF $5000 Gift Card for all your Boating Camping Fishing needs. $5,000
Polaris Ranger 150 $7,245
Club4x4 4x4 insurance voucher $1,000
Dometic CFX3 95DZ Dual Zone fridge / freezer and Dometic BBQ CPB101 $2,248
Sea Jay Nomad 3.7 HS tinnie and boat trailer $4,745
Mercury 20hp four-stroke long shaft outboard motor $4,599
Raymarine Element 9 HV - 9" Chart Plotter with CHIRP Sonar, HyperVision, Wi-Fi, GPS, HV-100 transducer, Navionics + Australia/NZ Charts $1,899
Tonic Tonic prize pack with His and Hers sunnies, shirts and caps $800
Shimano Shimano fishing pack $1,000
Our Cow Farmers Selection 1-year meat subscription $1,254
Total Prize Value $186,215.95
SPECIAL CONDITIONS

The drawn winner is not required to have a valid driver's license to win a prize, but a prize may only be collected by a representative of a winner who is in possession of a valid driver's license at the time of collection of such prize.
The prize value includes on-road costs. The Promoter and sponsors take no responsibility for petrol, comprehensive insurance, health, transport, body, paint or mechanical damage, vehicle manufacturer warranty, or any other costs or damages, from date of delivery. The winner acknowledges that any aftermarket accessories fitted to the vehicle may impact on the manufacturer's warranty and accept that the promoter and/or sponsors are not liable for any and all claims arising from the addition of aftermarket accessories to the vehicle. The winner will be required to sign a waiver form provided by the Promoter prior to the Prize Vehicle handover acknowledging each aftermarket accessory fitted to the Prize Vehicle and the impact these accessories have on the new vehicle warranty. The winner is responsible to ensure that the vehicle complies with any road transport safety regulations. In WA, winners will be responsible for arranging and paying for an immobiliser to be fitted, as required by WA Road Traffic regulations.
The winner will be responsible for any expenses incurred in getting to Brisbane for collecting the prize from the Promoter within 28 days of the draw, or at an alternative date by arrangement with the Promoter. The costs of driving or transporting the prize vehicle, caravan, boat and ATV are the responsibility of the winner.